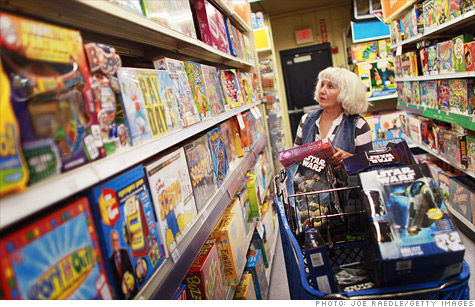 NEW YORK (CNNMoney) -- To help families who are struggling to buy gifts this upcoming holiday season, Toys "R" Us announced Tuesday it is extending its layaway program beyond big-ticket items to include most toys in its stores.
"We know that consumers will continue to look for ways to stretch their dollars this holiday season, but they still want to make sure they have that special Christmas gift for the children in their lives," Neil Friedman, president of Toys "R" Us U.S. said in a statement.
Since the company first introduced the program in 2009, thousands of shoppers have taken advantage of the ability to spread out their payments, Friedman said.
Previously, the layaway program was only for large purchases, such as bikes, swing sets and video game systems. But starting Oct. 15, Toys "R" Us is allowing shoppers to put almost any of its items, from Barbie dolls to Lego sets, on layaway.
Shoppers must put down 20% and pay a $5 service fee. They then have 90 days to pay off their purchase, but to guarantee delivery by Christmas, the item must be completely paid for by Dec. 4. There is an additional $10 charge for cancelled orders. Online shoppers can use the "Bill Me Later" option to make payments on their purchases over time.
"Maybe even more so this holiday season, consumers will rely on layaway," said Kathy Grannis, a spokeswoman from the National Retail Federation. "There is still economic turmoil and layaway is a great option for people who are focused on spreading out their shopping or may need to cut back on their credit -- anything they can do to cut costs."
As the economy continues to flounder, consumers have become more open to using layaway services, according to a survey by ConsumerSearch.com. Nearly half, or 42%, of those surveyed said they expect to use layaway to pay for holiday gifts this year.
Income does not appear to be a factor, either. Consumers with household incomes both below and above $40,000 equally used layaway in the past and are almost equally open to using layaway this season, ConsumerSearch said.
Last month, Wal-Mart also announced a layaway program for electronics and toys over $15. That program runs from Oct. 17 to Dec. 16 with a $5 fee. Sears and Kmart offer layaway programs throughout the year.
Despite the incentives, high unemployment, falling wages and a depressed housing market will likely take a toll on shopping this season. "We're already expecting a modest holiday season in terms of retail sales" Grannis said. Weak holiday sales could have repercussions on the economy as a whole as consumer spending accounts for roughly 70% of U.S. economic activity.