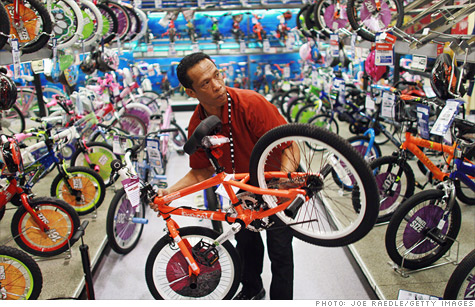 Toys "R" Us will hire thousands of temporary workers nationwide ahead of the critical 2011 holiday season.
NEW YORK (CNNMoney) -- Toys "R" Us announced Thursday that it will hire over 40,000 workers nationwide as it gears up for the all-important 2011 holiday shopping season.
Toys "R" Us started hiring this week for retail positions such as toy demonstrators and sales associates.
The toy seller is also hiring for 10 distribution centers including its newest facility in McCarran, Nevada.
Hiring will continue through November.
Toys "R" Us said that this year's holiday hiring is in line with previous years and added that seasonal jobs could result in permanent jobs for some of these new hires.
In 2010 10% of its holiday workforce was hired full time, the company said.
"We are proud to create tens of thousands of jobs across the country this Christmas, while providing the potential for hardworking individuals to find a permanent position with us," Dan Caspersen, Toys "R" Us Executive Vice President said in a statement.
The majority of new hires will be staffed at Toys "R" Us stores throughout the country as foot traffic increases in the weeks leading up to Christmas.
Also, the company said it would offer current employees the option to work overtime through the holiday season.