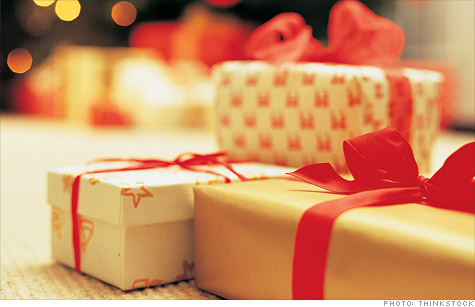 NEW YORK (CNNMoney) -- Even the wealthiest Americans plan on putting fewer gifts under the tree this holiday season but it's not because they can't afford it.
The rich seem to be discovering what the rest of us have tried to remember all along: The holidays are about family and friends, and less about a pair of new cashmere socks.
The wealthiest Americans -- with annual household incomes above $130,000-- are expected to spend $68.7 billion on gifts this season, a 6.1% decline from 2010, according to the survey of "Affluence and Wealth in America," conducted by Harrison Group and American Express Publishing.
But unlike the most of the population, it isn't financial constraints that are causing them to rein in the spending. In fact, nearly one-third of wealthy families said their household income actually rose since last year.
Rather, the majority, or 57%, of affluent consumers surveyed said they are buying fewer gifts this holiday season because they "just don't need as much stuff."
That reasoning barely registered last year when most of the people surveyed said they would cut back because they were "worried about the economy."
"People came out of the recession feeling better about themselves and closer to their family," explained Jim Taylor, vice-president of Harrison Group. "They found that they don't have to spend money to feel happy."
Over the past few years, people have come to realize that we have everything," added Margaret King, director of the Center for Cultural Studies & Analysis in Philadelphia. "We only wear 20% of our wardrobe, for example," she said.
Taylor said wealthy families will still buy expensive gifts, but will likely opt for ones with special meaning, like a locket, rather than a few new shirts or sweaters.
"People are going to buy presents, but not a lot of them," he said. "They are going to look for things that symbol the quality of a relationship."
Sixty-eight percent of those surveyed said they would buy a special gift with "lasting, enduring value" and one-third also said they would be planning a trip this year, the survey said.
"Consumers are really going to be focused on quality over quantity," said Pam Goodfellow, senior analyst at BIGresearch, an online marketing research firm. "It may be about that one great gift."
For Margaret Miller, 56, that means spending time with her two adult sons who will visit for the holiday. As part of a very large family, Miller says Christmas was always overloaded with gifts, but not this year.
"I'm looking forward to seeing my sons. For me that's what the holidays are about. The tree and everything else is great. But the presents are a whole lot less important this year more than ever," she said.
In fact, 84% of affluent Americans said that they want this to be a great holiday season for their family. Eighty-one percent said that the best part of the holidays is spending time with the people they care about, versus only 15% who said it was giving gifts.
Just 3% said the best part of the holiday was receiving gifts.