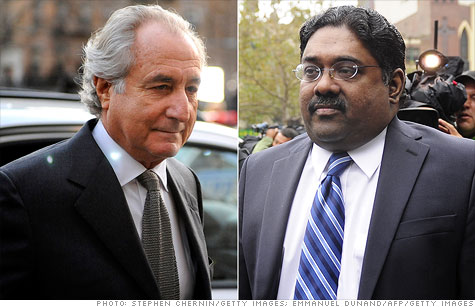 The lawyer for Raj Rajaratnam, right, requested that the white collar convict serve time at the same prison as Ponzi schemer Bernard Madoff, left.
NEW YORK (CNNMoney) -- Raj Rajaratnam, the former hedge fund manager who received the stiffest sentence ever for insider trading, is trying to get into the same prison as Ponzi mastermind Bernard Madoff.
Galleon Group founder Rajaratnam was sentenced to 11 years on Thursday.
At his sentencing, his lawyer Terence Lynam asked federal Judge Richard Holwell if Rajaratnam could serve his time at the Butner Federal Correction Complex in North Carolina, which features a medical center, according to the court transcript.
Holwell said that he would make that recommendation.
But while a judge can request a specific prison for a convict, he does not have the power to grant it. That decision is made by the federal Bureau of Prisons.
Holwell noted that Rajaratnam's deteriorating health -- in particular, his "advanced diabetes, imminent kidney failure, the need for transplant surgery" -- requires extensive medical care.
"Illness does not provide a get-out-of-jail-free card, but some form of forbearance, however constrained by circumstances, is fundamental to our system of justice and is appropriate here," said the judge.
Coincidentally, part of Lynam's defense was to differentiate Rajaratnam, age 53, from Madoff. He highlighted the fact that Madoff victimized thousands through his pyramid-style scheme, while arguing that Rajaratnam victimized no one by making trades based on inside knowledge.
Madoff was sent to Butner immediately after his sentencing on March 11, 2009. He had pleaded guilty to running the largest, longest-running Ponzi scheme in history. He was sentenced to 150 years and faces a release date of Nov. 14, 2139.
But Madoff, age 73, was not sent to Butner for medical reasons, though he has taken advantage of the prison's medical services. In December 2009, he was transferred to the on-site medical center for 10 days to receive treatment for hypertension and dizziness.
Madoff was most likely sent to Butner for its geographical proximity to New York City.
The Bureau of Prisons tries to send convicts to prisons that are located within 500 miles of their homes so that family members can visit them. Butner is located 490 miles from Madoff's New York base of operations.
Madoff's lawyer, Ira Lee Sorkin, had actually requested that Madoff serve his time at the Federal Correctional Institution Otisville, located a mere 70 miles from New York City.
Rajaratnam is required to report to authorities on Nov. 28 to begin his sentence. Edmond Ross, spokesman for the federal Bureau of Prisons, said it's too soon to know where he'll be transferred.
Rajaratnam's lawyer did not return messages from CNNMoney.
The Butner complex, located north of the research triangle of Durham, Raleigh and Chapel Hill, began life during World War II as an Army training camp and prisoner-of-war facility.
Now its sprawling campus is home to two medium security prisons, a low security prison and nearly 5,000 inmates, in addition to the medical center.