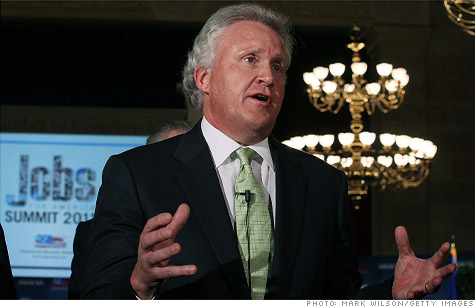 NEW YORK (CNNMoney) -- General Electric's CEO Jeff Immelt said Monday he empathizes with the grievances of the Occupy Wall Street protesters.
"Unemployment is 9.1% and underemployment is much higher than that, particularly among young people that don't have a college degree," he said. "It is natural to assume people are angry, and so I think we have to be empathetic and understand that people are not feeling great."
Speaking at a ThomsonReuters event in New York, Immelt went on to discuss the gap between CEO pay and average wages, one of the main sources of discontent among the Occupy Wall Street activists.
"I think the discrepancy is certainly one of the problems today in terms of why people feel the system is unfair," he said. "So let's be honest about that. It is part of the problem."
That said, Immelt was also quick to point out that high CEO pay is not the cause of America's job crisis or weak economic growth.
"If CEO pay goes way down and unemployment is 12%, people are still going to feel bad," he said.
According to an AFL-CIO report earlier this year, CEO pay was 343 times that of a typical American worker last year. Immelt himself received a pay package of about $15.2 million in 2010.
Meanwhile, 14 million Americans remained unemployed, a problem Immelt is tasked with solving as the head of President Obama's Jobs Council.
Last week, that council presented a 5-point proposal to the president, pushing for investments in infrastructure and energy, efforts to attract more foreign investment, simpler regulations, better education and more help for small businesses.
On Monday, Immelt also stressed the importance of increasing U.S. exports as a key driver of economic growth and job creation.
Obama is trying to double the nation's exports by 2015, a goal that seems to be on track. But Immelt believes the country needs to be even more aggressive, modeling its strategy after Germany, where exports account for more than a third of the country's output.
In comparison, exports only account for about 13% of the U.S. economy.
"They play hard, they play to win, and they play for exports," he said. "I think we can compete and we can compete very well, but we're not all the way in, the way the Germans are in."
He said GE is focusing on Russia as a key area for growth, as well as other emerging markets including energy-rich nations in Africa.
Immelt also said he believes the United States can compete head-on with China, the world's largest exporter, not only globally but within China as well.
"Now's our time. There are 25 airports under construction in China today. There's none under construction in the U.S." he said. "They're going to buy more airplanes. We can win all of that activity if we want to."
GE was highly criticized this year for not having to pay any U.S. income taxes in 2010. Immelt said Monday that GE's tax rate will be above 30% this year, and he expressed his support for tax reform that eliminates corporate loopholes.