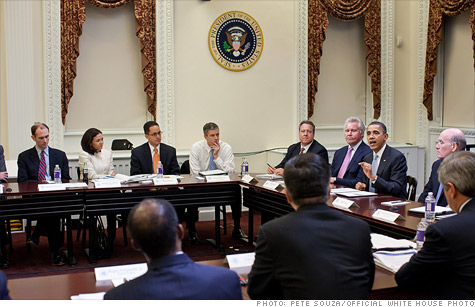 Obama's job council releases their wish list of proposals that they say will spur jobs.
WASHINGTON (CNNMoney) -- President Obama's jobs council on Tuesday released a list of proposals to spur job growth, putting investment in roads and bridges and tax breaks to encourage start-ups and company growth at the top of the list.
"When 25 million Americans who want full-time work can't find it, each of us has a duty to think and act differently," the report said. "We owe it to our fellow citizens desperate to get back to work to act on these common sense ideas without delay."
Other proposals include removing regulatory burdens, retooling jobs-training programs to better match workers with vacancies, and allowing more "high-skilled" immigration to fill jobs.
President Obama put together a 27-member team of business and labor leaders earlier this year as a kitchen cabinet devoted to creating jobs and boosting the economic recovery.
Obama and the jobs council will meet later Tuesday in Pittsburgh.
The jobs council recommendations doesn't endorse the president's jobs bill. But there is some overlap, especially on tax breaks and investment in infrastructure and clean energy technologies.
The report suggests policy makers need to consider a new government-backed financing program for clean energy technologies to help the United States play catch-up to other nations such as India and China, which are heavily subsidizing solar manufacturing.
In two different areas, the report calls on Congress to make it easier for foreign immigrants who attend universities in the United States to stay and work, acknowledging the measure may be controversial.
"We are sympathetic to the political sensitivities around the topic of immigration reform," the report said. "But when it comes to driving job creation and increasing American competitiveness, separating the highly skilled worker component (from the debate about general immigration) is critical."
The report also suggests that policymakers should reform the tourist visa process and invest in expanding visa offices to make it easier for people around the world to travel to the United States.
The jobs council replaced the president's economic advisory team, which had been led by former Fed chair Paul Volcker.
The council is headed by General Electric Co (GE, Fortune 500). chief executive Jeffrey Immelt and includes a variety of executives, including AOL (AOL) co-founder Steve Case (AOL) and Intel (INTC, Fortune 500) CEO Paul Otellini. It also includes AFL-CIO president Richard Trumka and Facebook Chief Operating Officer Sheryl Sandberg.
In Pittsburgh, President Obama is expected to tout his $447 billion jobs bill, which the Senate will consider later in the day. The Senate can't move forward on the measure unless 60 lawmakers agree, a high threshold that many don't expect to be met.