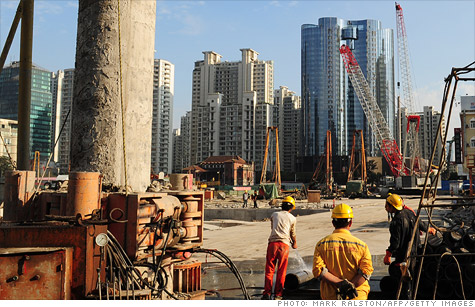 China's economic growth slowed to an annual pace of 9.1% in the third quarter, down from 9.5% in the prior quarter.
NEW YORK (CNNMoney) -- China's red hot economic growth cooled slightly from July through September, but remains the envy of many western countries still struggling to recover from the global economic meltdown.
China's gross domestic product grew at an annual pace of 9.1% during the third quarter, down from 9.5% growth in the second quarter and 9.7% growth in the first three months of the year.
That compares with just 1.3% growth in the United States and 0.2% growth in the 17-country euro zone during the second quarter. (Those countries have not yet released third quarter figures.)
China's government is fighting to rein in high inflation without pushing the economy into a so-called hard landing.
As part of that effort, the People's Bank of China has tried to tighten credit markets by raising interest rates five times since last October and also imposing higher reserve requirements on many of the nation's banks.
But the effect on inflation has been slow to take hold as consumer prices are still rising at breakneck speed. In September, prices increased 6.1% annually, compared with just 3.6% from a year earlier.
Speaking at the World Economic Forum in Dalian, China last month, Premier Wen Jiabao said the government will continue to try to balance controlling inflation with supporting continued economic growth.
So far, he said, he's comfortable with the slightly slower rate in economic growth, pointing out that it was expected as a result of the government's crackdown on inflation.
"We will maintain control over the intensity, pace and focus of macroeconomic regulation and strike a balance among maintaining stable and fast economic growth, adjusting economic structure and managing inflation expectation," he said.
Economists are expecting demand for Chinese exports to weaken in coming months, as the U.S. and European economies struggle to grow at even a modest pace.
At the same time, they don't expect weaker exports to pose a significant threat to China's overall economy, since the government there is also focused on promoting more domestic demand.
Other data released by the Chinese government on Tuesday, showed consumer spending was surprisingly strong, even amid high inflation in the country. Retail sales soared 17.7% year-over-year in September, up from 17% growth in August.
"While external slackness will likely bite China's exports growth in the coming months, the strength of domestic demand should keep the economy growing at around 8.5% to 9% in the coming quarter," HSBC's Asian economics team wrote in a research note.