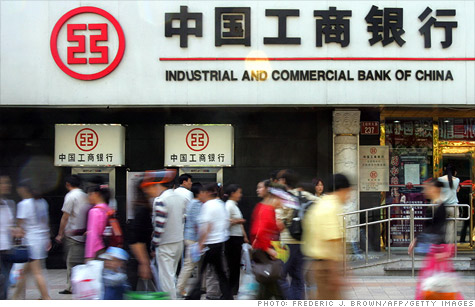 As Chinese bank stocks plummet, the government's sovereign investment fund has begun to buy state-owned bank shares to provide support.
NEW YORK (CNNMoney) -- The Chinese government's investment fund has announced plans to shore up four major banks, a move that follows months of declines in their stock prices amid concerns that the world's second-largest economy may be slowing.
Central Huijin Investment Ltd, an arm of Beijing's China Investment Corporation, has begun purchasing the state-owned banks' shares in an attempt at "supporting the steady operation and development of major financial institutions and stabilizing their stock prices," China's official Xinhua state news agency said.
In filings to the Hong Kong stock exchange, the companies -- Agricultural Bank of China, Bank of China, China Construction Bank, and Industrial and Commercial Bank of China -- said Central Huijin had purchased their shares Monday on the Shanghai exchange.
While the initial purchase totaled just $31.1 million, according to data compiled by Bloomberg based on Monday's closing prices, the banks said Central Huijin planned to continue increasing its stakes over the next year.
Analysts called China's move an attempt to shore up confidence in the four banks, which have faced sharp drops in their stock prices over the past few months and are critical to the nation's overall economic health.
Industrial and Commercial Bank of China's shares have dropped roughly 25% in Hong Kong over the past three months, as have Bank of China's and Agricultural Bank of China's. China Construction Bank's shares have slipped about 17%.
"The four largest Chinese banks play a very central role within the Chinese economy," said Sahm Adrangi, portfolio manager at Kerrisdale Capital Management. "It looks like the Chinese government is stepping in to provide some equity capital, to provide some support."
Central Huijin was already a major shareholder in all four banks prior to Monday's purchases. It made a similar move to shore up the institutions during the global financial crisis in 2008. That move prompted a short-term rally among stocks on the Shanghai exchange but not lasting gains.
Bank stocks globally have taken a beating over the past few months. Chinese bank stocks have joined this downward plunge, though for different reasons than banks in Europe and North America, said Nicholas Lardy, a senior fellow at the Peterson Institute for International Economics. Chinese banks have no significant exposure to Greek debt, but have instead suffered because of pressure from Chinese regulators to raise capital that has led to fears among their shareholders, he said.
"The banks have to raise a lot more capital over the next few years, so if they do it through share issuance, existing shareholders will get diluted," Lardy said.
Concerns about China's possible over-investment in domestic property, and the prospect that the banks may face a large number of non-performing loans associated with these investments, have also hurt share prices.
"China's in the midst of a credit bubble. The question is not whether they're in a bubble, but when it may burst and how hard the landing may be," Adrangi said. He added that the future of the banks' stocks will likely be influenced more by their fundamentals and the health of the Chinese economy than by sentiment prompted by Monday's announcement.
Chinese stocks have suffered across the board in recent months. Hong Kong's Hang Seng is down 20.4% this year to date. Shanghai's SE Composite Index has slipped 13.8%, hitting a 30-month low at Monday's close.
The banks that benefited from Central Huijin's share purchase reacted strongly Tuesday following the share purchase announcement, with Bank of China up 7.7% on the Hang Seng, Agricultural Bank of China up 12.8%, China Construction Bank up 5.8% and Industrial and Commercial Bank of China up 6.7%.
Overall, the Hang Seng closed up 2.43% on Tuesday, while the Shanghai exchange stayed relatively flat, up 0.16%.
While specifics about the scope and duration of the share purchase effort are still hazy, China is nonetheless attempting to send a message to investors loud and clear, said Jonathan Masse, Senior Portfolio Manager at Baochuan Capital Management in Northern California.
"It sent the message to the world that Chinese stocks are excessively cheap," he said.