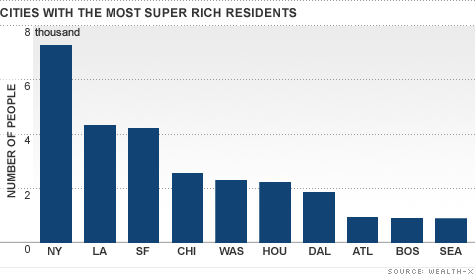 NEW YORK (CNNMoney) -- Donald Trump calls it home but so do 7,719 other people worth at least $30 million. In fact, more of the nation's super rich live in New York than any other U.S. city.
Altogether, there are 57,860 ultra high net worth individuals in the U.S. and 13% of them live in the New York City area, according to a study released Tuesday by Wealth-X, a Singapore-based research firm. Wealth-X defined ultra high net worth individuals as those with at least $30 million in assets, including art, real estate and other property.
While many super rich Americans call New York City home, a lot of their neighbors are poor: 20.1% of all New York City residents live below the poverty level, according to the Census Bureau.
Still, when it comes to uberwealthy citizens, New York far outpaced other U.S. cities. With 4,350 super-rich residents, Los Angeles ranked a distant second. San Francisco (4,230), Chicago (2,550) and Washington (2,300) rounded out the top five, while Seattle ranked 10th with 885 ultra high net worth individuals -- including Bill Gates.
This is the first time Wealth-X has conducted the study. The firm said its estimates are largely based on Census and tax data and include residents' shares in public and private companies, residential and investment properties, art collections, planes and other assets.