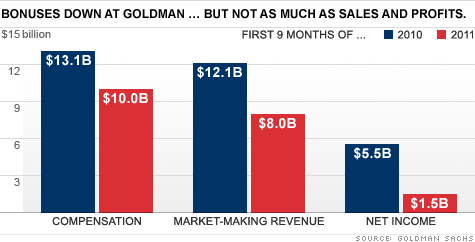 It's been a tough year for Goldman Sachs, but compensation hasn't fallen at the same rate that revenue and earnings have. It's no wonder people are angry at Wall Street.
NEW YORK (CNNMoney) -- If a company discloses that its profits plunged by nearly 75%, why are its compensation expenses only down about 25%?
I was not a math major in college. Or even economics for that matter. But something seems off. Yet this is what Goldman Sachs (GS, Fortune 500) reported Tuesday morning. And that, in a nutshell, is why the Occupy Wall Street movement isn't going away.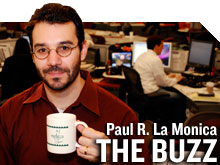 Goldman Sachs posted a big loss in the third quarter. As a result, the not-so lovable vampire squid's profits for the first nine months of the year were $1.5 billion, down sharply from $5.5 billion in the same period a year ago.
Despite that, Goldman still allocated $10 billion in the first three quarters of 2011, to compensation expenses.
That works out to an average of about $292,000 for each of Goldman's workers. A year ago, Goldman set aside approximately $13 billion for its staff. That amounted to more than $370,000 per Goldman employee.
These numbers are widely referred to as the "bonus pool" even though it's a bit of a misnomer. It really is the total cost of salaries, benefits and other expenses for all employees, not just CEO Lloyd Blankfein and the other high-powered Goldman bankers doing "God's work." (Remember that hilarity from 2009? If not, see "Shut up, Lloyd Blankfein!")
And while Goldman staffers are getting paid less than they were a year ago -- and well below the more than $540,000 they received through the first three quarters of 2006 back when Wall Street was booming -- it still doesn't seem as if Goldman has cut back enough.
Consider this. Goldman's compensation expenses are 44% of its overall revenue so far this year. Goldman actually set aside a slightly smaller percentage of revenue -- 43% -- in the bonus pool a year ago. And that was during a time when the market was doing well.
Why did this happen even though the total amount of compensation is down? Layoffs. Goldman's headcount is down from a year ago as well.
So to repeat. Goldman lost money in the third quarter. It has fewer workers than the same time a year ago because times are tough. But it still found it necessary to allocate a higher portion of revenue for compensation? Come on!
Goldman is admittedly an easy target. But it's not the only big boy doling out fat paychecks while complaining about hard times.
JPMorgan Chase (JPM, Fortune 500) reported last week that the average compensation for the employees in its investment banking division was about $290,000 in the first three quarters of 2011. That's down slightly from last year.
To be fair, JPMorgan has done a better job of navigating the current market and economic turmoil than Goldman and other big banks. Still, JPMorgan did report a double-digit percentage drop in revenue for the third quarter.
So the JPMorgan compensation figure also seems a bit excessive, especially considering that JPMorgan Chase CEO Jamie Dimon went out of his way to lament the challenging market environment and complain about regulation from Washington.
If times are so tough for investment banks, wouldn't it be prudent to cut back even more on bonuses to preserve precious profit margins? Or is it more important to reward insiders than shareholders?
Then there's Citigroup (C, Fortune 500) and Bank of America (BAC, Fortune 500). The banks don't specifically break down compensation for their investment banking units. But Citi disclosed that its overall compensation expenses were up 6% in the first nine months from a year ago -- even though revenues were flat.
BofA posted a 22% year-over-year drop in revenue for the first three quarters of 2011. Despite that, the bank said that "personnel" expenses were up 7%. And this is from a bank that recently announced plans to cut 30,000 jobs!
When you let all this sink in, it's no wonder there is so much rage against the big banks. It makes sense there is a crowd of angry protesters "occupying" Wall Street and other locations around the world.
Yes, I understand that big banks need to retain their top employees. But name another business where companies decide to give out big bonuses as an incentive when things are NOT going well and people are getting laid off.
Isn't the fear of losing one's job enough of a reason to work hard? It is for most Americans that don't work on Wall Street.
Now some are trying to brand the Occupy Wall Street group as anti-capitalist. But nothing can be further from the truth.
As long as banks report so-so results and still dole out above average compensation packages, it will be harder to claim with a straight face that the Occupy Wall Street crowd is just a bunch of unemployed college graduate slackers who don't "get it."
I don't have a problem with the concept of anybody earning big bucks on Wall Street. And I doubt that even the most left-leaning of Occupy Wall Street protesters thinks the banks should be run like former Soviet bloc countries.
But what the protesters -- and I -- do have a problem with is that many bankers are getting paid handsome salaries and bonuses without actually doing anything to deserve it.
Capitalism should reward success, not mediocrity -- or worse, failure. That's why people are angry. Can you blame them?
The opinions expressed in this commentary are solely those of Paul R. La Monica. Other than Time Warner, the parent of CNNMoney, and Abbott Laboratories, La Monica does not own positions in any individual stocks.