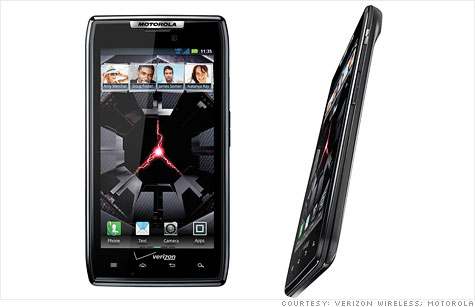 The new Droid RAZR will hit store shelves in November.
NEW YORK (CNNMoney) -- Struggling Motorola Mobility is going retro by bringing back the RAZR, the best-selling cell phone brand of all time -- until the iPhone came along.
Motorola on Tuesday unveiled the new Droid RAZR smartphone, which will go on sale in early November exclusively on the Verizon (VZ, Fortune 500) Wireless network. Priced at $299 with a two-year contract, the 7.1 millimeter phone will be built around Google's Android Gingerbread operating system and will be among the thinnest smartphones on the market, just like its successful predecessor.
Motorola debuted the ultra-thin flip phone in 2004. It immediately smashed through sales records and remained the top-selling cell phone for 12 straight quarters.
Its run came to a screeching halt in the third quarter of 2007, when Apple debuted the iPhone. But during its streak, RAZR flew off the shelves faster than the iPhone: Motorola sold 110 million RAZRs in three years. It took Apple (AAPL, Fortune 500) four years to sell as many iPhones. The iPhone finally broke the RAZR's all-time sales record in the second quarter of 2011.
Motorola is hoping to rekindle some of that success.
"Not only is it a marvel of engineering, but it's beautiful too," Motorola Mobility CEO Sanjay Jha said at Tuesday's launch event.
He called the Droid Razr "the best smartphone on the market today."
Motorola also unveiled the MotoACTV, a gadget for fitness freaks. The iPod Nano-sized device, designed to be worn on a wristband, has a 4,000-song music storage capacity and built-in tools for recording workout information. With GPS, Wi-Fi and a heart-rate monitor, the sweat and rain-resistant gizmo is targeted at runners and other outdoor-exercise enthusiasts.
"We put more technology per cubic millimeter into this than any other device in our history," Jha said. Pricing for the MotoACTV starts at $249 for an 8 GB version.
Revving Motorola back up: Motorola has struggled in recent quarters, citing delays in getting some of its key products, like the Droid Bionic, on to store shelves. Other promising devices have failed to meet expectations, including the smartphone-that-becomes-a-laptop Atrix 4G.
In the second quarter, Motorola (MMI) lost $56 million and disappointed Wall Street analysts by delivering a weaker-than-expected forecast for its next quarter. The company will present its third-quarter financial results on Oct. 27.
Its tablet business has also been far less profitable and successful than it expected. Motorola sold just 440,000 Xoom tablets in the device's first three months on the market. The Xoom -- the first tablet to run Google's Android Honeycomb system -- was expected by many analysts to be the first true rival for the iPad. It fizzled: Apple sold 9.25 million iPads during the same period.
Meanwhile, Google (GOOG, Fortune 500) continues to push for its $12.5 billion takeover bid of Motorola Mobility. Last week, when Google announced its stronger-than-expected earnings for the past quarter, the search giant's CEO reiterated that Motorola will be a crucial part of the company's Android smartphone strategy.