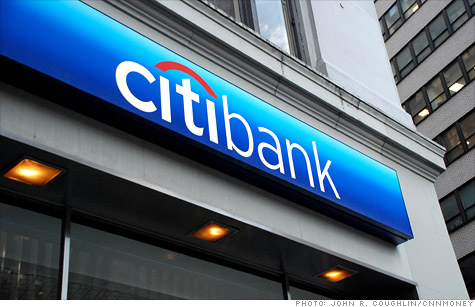 The SEC will return $285 million to investors.
NEW YORK (CNNMoney) -- Citigroup has agreed to pay $285 million to settle Securities and Exchange Commission charges that the bank misled investors about the strength of a security tied to the struggling U.S. housing market.
The SEC alleges that in 2007, the bank marketed and sold a mortgage-related collatarized debt obligation, or CDO, called Class V Funding III.
According to the SEC complaint, one CDO trader characterized the asset group as "a collection of dogshit" and "possibly the best short EVER!"
After marketing the CDO, Citi (C, Fortune 500) then took a short position -- or bet against -- the security as the housing market deteriorated, bringing in a net profit of $160 million for the bank. Investors, meanwhile, were cleaned out.
Citigroup neither admitted or denied the SEC's allegations as part of the settlement.
The $285 million settlement will be returned to clients, the SEC said.
"The securities laws demand that investors receive more care and candor than Citigroup provided to these CDO investors," Robert Khuzami, director of the SEC's Division of Enforcement said in a statement.
And that includes notification when the bank is betting against its own product.
"Investors were not informed that Citgroup had decided to bet against them and had helped choose the assets that would determine who won or lost," Khuzami said.
The SEC said it is continuing litigation against Brian Stoker, the Citi employee primarily responsible for structuring the CDO.
The bank said it was happy to settle the matter.
"We are pleased to put this matter behind us and are focused on contributing to the economic recovery, serving our clients and growing responsibly," the bank said in a prepared statement.
The SEC has settled a string of similar complaints in recent months, including agreements with Goldman Sachs (GS, Fortune 500) and JPMorgan Chase (JPM, Fortune 500).
Representatives from Citigroup did not immediately respond to a request for comment.