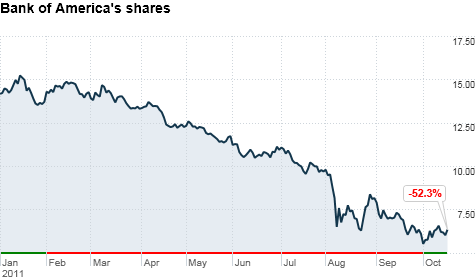 Bank of America has been the worst performing financial stock in 2011. Click chart for more on BofA
NEW YORK (CNNMoney) -- A leaner Bank of America can no longer claim the title as the United States' largest bank by total assets.
During the third quarter, JPMorgan Chase managed to edge ahead of its rival with $2.289 trillion in assets compared to Bank of America's $2.219 trillion.
In a particularly opaque third-quarter earnings release Tuesday morning, Bank of America managed to eke out a 6% jump in third-quarter earnings, reversing a year-earlier loss.
While most of Bank of America's third-quarter profit came from one-time asset sales or accounting quirks, investors cheered news that the bank had increased the amount of capital it holds to buffer it from mortgage-related lawsuits.
"It looks less likely today than yesterday that this company will need to raise equity," said Anthony Polini, managing director of equity research at Raymond James.
Bank of America's (BAC, Fortune 500) shares, which have declined more than 50% this year, rallied 7% by late morning.
After spelling out bold plans for reducing headcount in mid-September, Bank of America CEO Brian Moynihan surprised investors and probably employees by hinting on a conference call Tuesday morning that the company would be conducting fewer actual layoffs than originally predicted.
Moynihan had previously announced plans for roughly 30,000 layoffs or 10% of its employees and to close 10% of its 5,742 branches as of June 30.
So far, Bank of America hasn't made much progress.
During Tuesday's conference call, Moynihan said the company has cut 2,000 employees to bring its headcount down to 288,739. Because these employees have only recently been notified, he said the cost benefit will show up in BofA's fourth-quarter earnings report.
"They say they don't anticipate taking a big severance charge, which suggests to me that a lot of these headcount reductions will come from attrition," said Polini.
The Charlotte, N.C., bank posted net income of $6.2 billion, or 56 cents a share, compared with a net loss of $7.3 billion, or 77 cents per share, in the year-earlier quarter.
Asset sales and cost cutting helped boost Bank of America's profit last quarter, including a gain from a $3.6 billion sale of BofA's stake in China Construction Bank.
Bank of America also generated an additional $1.7 billion from a disquieting gain. Banks can essentially book gains on their balance sheet when credit spreads move higher. That happens when trading partners grow more concerned about doing business with a bank, thus charging more for transactions.
With the exclusion of one-time events, Bank of America's third-quarter profit comes closer to $700 million, said Jefferson Harralson, a banking analyst at Keefe, Bruyette & Woods, Inc.
Even after a 90-minute conference call, several analysts said they're struggling to understand which revenues and expenses will be recurring.
"We still don't know how much revenue has been lost by Dodd-Frank, by divestitures and by the weaker economic environment," said Harralson. "Investors still have a lot of work to do."
Bank of America has been in the spotlight for much of this year as investors have worried about how it can stop the bleeding from losses associated with Countrywide's subprime mortgage portfolio.
More recently the bank has drawn the ire of its banking customers, who were frustrated by management's decision to charge a $5 monthly fee on debit cards and by prolonged outages on its website.
Bank of America continues to struggle even after receiving what's often considered a gold seal by the investment community: a $5 billion investment from Warren Buffett.
Meanwhile, Goldman Sachs reported (GS, Fortune 500) its second quarterly loss since the company went public in 1999. Goldman lost 84 cents a share, much worse than the 16-cents-a-share loss expected by analysts.
On Monday, Citigroup (C, Fortune 500) issued a cautious statement as the bank issued a solid earnings report.
Morgan Stanley (MS, Fortune 500) is the last of the big banks to report, with its release slated for Wednesday morning before the start of trade.