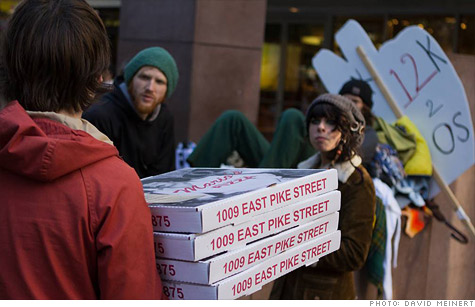 Big Mario's delivery driver brings hot pizzas to the Seattle Occupy Wall Street protest.
NEW YORK (CNNMoney) -- Big Mario's Pizza has been keeping the tummies of the protesters at the Occupy Wall Street Seattle full for almost two weeks.
Co-owner David Meinert donated about 12 pizzas to protesters a couple days after the occupation gained traction in Seattle.
"I was just reading about the protests and it was kind of a drizzly day, and I thought it would be nice to deliver some hot food," said Meinert.
"It seemed to really invigorate them and give them some belief that there was outside support for what they are doing," said Meinert.
In addition, people who want to show support get a 20% discount on pies they order for the protesters, and Meinert delivers them for free.
In all, the Seattle protesters have received more than 100 pizzas from Big Mario's.
Occupy Wall Street started on Sept. 17 in New York City and consisted of a few hundred people speaking out about corporate greed and inequality.
Now in its 32nd day, the Occupy Wall Street protest has spread across the globe, gotten hundreds arrested, gotten some powerful labor unions on board, and gotten President Obama's attention.
In another sign of protest, Meinert recently decided to move all of his bank accounts from Bank of America (BAC, Fortune 500) and Chase (JPM, Fortune 500) to locally owned Seattle Bank. He is "tired of how the national banks treat us," he said.
For Meinert, who owns and co-owns a few other small businesses, donating the pizzas is a sign of solidarity both for the protesters and the cause.
A common rallying cry for protesters is "We are the 99%," indicating that the majority of the population is not getting their fair share, either economically or politically.
"The 99% movement is about wanting things to represent the people," said Meinert.