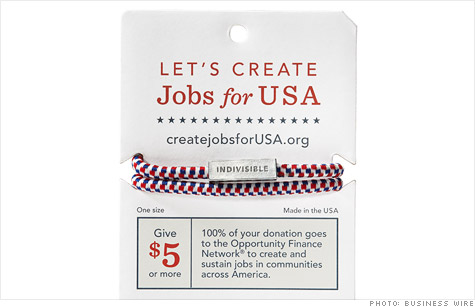 Starbucks announced a program Monday to pool donations for community lending. Donors who give $5 or more will get a red, white and blue wristband with the word "indivisible" on it.
NEW YORK (CNNMoney) -- Starbucks Corp. unveiled a program Monday to help raise money to spur hiring among small businesses.
The program -- called Create Jobs for USA -- will pool donations from customers, employees, or any concerned American, which will be given to the Opportunity Finance Network.
The Opportunity Finance Network consists of 180 community development financial institutions, which lend to many organizations, including small businesses. The idea is that if small businesses have capital, they will hire.
"Small businesses are the backbone of America, employing more than half of all private sector workers -- but this critical jobs engine has stalled," said Starbucks (SBUX, Fortune 500) chairman and CEO Howard Schultz, in a written statement. "We've got to thaw the channels of credit so that community businesses can start hiring again."
A community development financial institution, or a CDFI, is an organization certified by the Treasury Department. It gives low-interest government loans, grants and tax credits to organizations that specialize in economically developing, low-income and otherwise underserved markets.
"Create Jobs for USA empowers Americans to help other Americans create and sustain jobs," said Schultz.
Beginning Nov. 1, Starbucks will accept donations online at www.CreateJobsforUSA.org and at almost 6,800 locations across the nation. Any donor who drops at least five bucks will get a red, white and blue wristband with the word "indivisible" printed on it, "as a symbol of our country's unity," said Schultz.
The Seattle-based ubiquitous coffee chain is starting the donation pool with a $5 million contribution.
The number of jobs created will depend on the generosity of American java drinkers. But, for every $5, the CDFI should be able to lend out $35. According to estimates compiled by Opportunity Finance Network in collaboration with independent economists, a new job will be created or saved for every $21,000 loaned, or every $3,000 donated.
With their local, hands-on approach to lending, CDFIs have a proven track record.
"CDFIs are well known to be highly effective at creating local jobs in communities that need them the most," said Moody's Analytics chief economist Mark Zandi, in the written statement announcing the program's launch, "especially when it comes to helping community businesses that are having difficulty securing credit during the current economic climate."
CDFIs in the Opportunity Finance Network have an average 98% repayment rate, meaning that almost all the dollars donated will be "re-loaned indefinitely," according to the statement.
Schultz has been pretty vocal, urging Americans to chastise Washington politicians for their inability to agree.
The coffee empire CEO also led more than 100 CEOs to sign a pledge to halt all political campaign contributions until lawmakers, as Schultz puts it, "stop the partisan gridlock in Washington, D.C."
Schultz has some influence with corporate America: AOL's (AOL) Tim Armstrong, Frontier Communications' (FTR) Maggie Wilderotter, Zipcar's (ZIP) Scott Griffith, Whole Foods' (WFM) Walter Robb and Intuit's (INTU) Bill Campbell have all signed up for his pledge to stop campaign contributions.