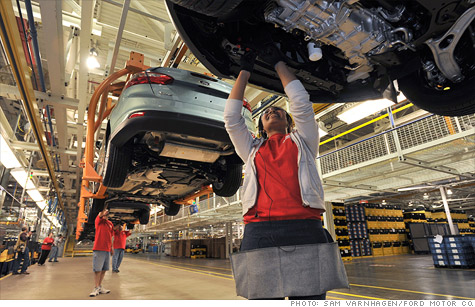 Ford Motor had its credit rating upgraded after union members ratified a new 4-year labor deal,
NEW YORK (CNNMoney) -- Ford Motor Co. has had its credit rating upgraded by two agencies, although it fell just short of shaking the junk bond status that has dogged it for the last six years.
Standard & Poor's upgraded Ford's debt two notches to BB+ rating on Friday, the rating just below the cherished investment grade.
Credit rating agency Fitch made a similar move Thursday, raising Ford one notch to BB+. The other major credit agency, Moody's Investors Service, announced earlier this month it was looking at raising its rating for Ford.
Ford (F, Fortune 500) and rival General Motors (GM, Fortune 500) were downgraded to junk bond status in May 2005 as they entered into a prolonged period of losses.
Shares of Ford were up 4% in trading at midday Friday.
S&P said it believes Ford's four-year labor pact with the United Auto Workers union, ratified this week, will allow it to make money in North America even if industrywide auto sales slow down somewhat from the current pace of about 12.5 million vehicles a year.
"We believe the contract will allow for continued profitability and cash generation in North America," said S&P's statement on the upgrade. "Ford has a two-year track record of profits and cash flow generation in its global automotive operations, supported by strong performance in North America."
S&P made the same move with rival automaker General Motors' debt earlier this month after its workers ratified a comparable labor deal. The agency said at that time that it was considering raising GM's rating further.
But in Ford's case it said it is not looking at any further upgrade right now. Fitch, however, is weighing a further upgrade for Ford.
GM has a somewhat stronger balance sheet than Ford because the federal bailout and bankruptcy process it went through in 2009 allowed it to shed most of its debt.
Ford, the only major U.S. automaker to avoid bankruptcy and bailout, has made progress shaving down its debt through earnings the last two years. The auto operations had $8 billion more cash on hand than it had debt as of June 30.
Investors have been waiting for Ford debt to return to investment grade, because Ford officials had previously said that was necessary in order to once again start paying a dividend, which it suspended in 2006.
But in recent weeks Ford officials have signaled they won't necessarily wait for that upgrade before they restore the dividend.
"A year ago, early this year, we were talking about it being an absolute," said Chief Financial Officer Lewis Booth, speaking Thursday on an analyst conference call about the linkage of investment grade debt with a dividend. "But as our creditors improved and as our performance has improved, we don't think it's an absolute necessity."
Booth said Ford believes shareholders have been patient waiting for a dividend and the company shouldn't wait for something "that's not within our control" to reward them.
Ford is set to report third-quarter results on Wednesday before the stock market open.