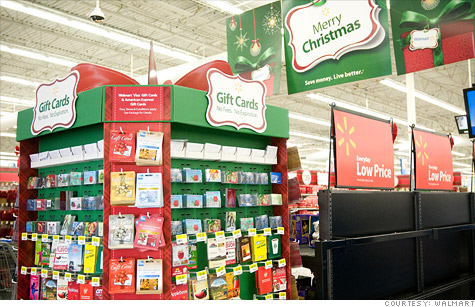 NEW YORK (CNNMoney) -- Seeing major competition and a troubled economy in its holiday forecast, Wal-Mart Stores announced a holiday price guarantee program for its U.S. stores Monday.
Under the program, the world's largest retailer will offer shoppers a refund on the difference if they find the same product they purchased at a Wal-Mart store advertised for a lower price elsewhere.
The price guarantee program is good on purchases made Nov. 1 through Dec. 25 that are available at a competitor's store within the same local market.
To get a gift card for the difference, customers must bring in their original receipt and the local competitor's printed ad before Dec. 25. Items placed on layaway are also eligible for the Christmas price guarantee.
The offer excludes Black Friday ads and Internet pricing, among other restrictions.
"Wal-Mart is easing shopping stress this Christmas by allowing customers to shop when and how they want, all while guaranteeing low prices through the entire holiday season," Duncan Mac Naughton, Wal-Mart's chief merchandising officer, said in a statement.
The offer comes on the heels of a recent report by the National Retail Federation that found that 62.2% of Americans said the economy will impact their holiday spending plans and most people said sales or price discounts were the most important factors when making purchases this year.
Wal-Mart has also announced a number of other shopping incentives this season including layaway on purchases over $15, free shipping on most Walmart.com products, no interest on Wal-Mart credit card purchases if they are paid for in full within six months, and a 10-cent discount on each gallon of gas bought at participating Murphy USA or Wal-Mart stations.