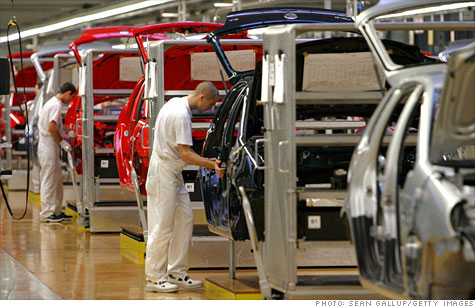 Workers put together Volkswagens at the automaker's plant outside of Bratislava, Slovakia
FORTUNE -- Historically-ignored, Slovakia made its presence known on the international scene a few days ago when it became the sole EU member to vote to block the expansion of a bailout fund, thus delaying any decision to aid the collapsing Greek economy.
Slovakia's moment of fame lasted only slightly longer than the usual 15 minutes. The EU vote caused the collapse of its ruling party and was reversed a few days later. It's a shame that it was so quickly ushered off the global stage because the young country has achieved much in its brief history and deserves more recognition.
Slovakia became independent and its boundaries adjusted to their current dimensions only 18 years ago. Yet in that short time, through a mixture of grit, sweat, and economic opportunism, it has become an automotive manufacturing power.
Slovakia has been making more cars per capita than any other country in the world -- more than Germany, Japan, or the U.S. It's an achievement that in many ways dwarfs those of better-known success stories involving China and India. That's because Slovakia came out from behind the Iron Curtain as recently as 1989 and thus had made the transition from communism to capitalism in a little more than two decades. Furthermore, it has built its automotive business entirely on the back of foreign makers. Slovakia has no domestic auto companies.
How did this happen?
The Slovak Republic is a landlocked state in Central Europe with a population of about five million. Part of the Austro-Hungarian empire until 1918, and a satellite of the old Soviet Union until 1989, it separated from what is now the Czech Republic in 1993 to become an independent country.
As I discovered on a brief stopover there last week, Slovakia achieved its success the hard way. On the streets of its capital city of Bratislava, you see Czech Skodas, German Opels, and the occasional Trabant left over from the Soviet Era, but no Slovak cars. What Slovakia did was leverage its geographical proximity to the stronger economies of Western Europe, keep its pay levels for skilled labor lower than its neighbors, dispense healthy relocation incentives to foreign companies, and maintain a 19% flat tax rate for both individuals and businesses.
At the same time, it rebuilt its infrastructure by constructing 250 miles of highways, electrified its entire rail system and erected a supplementary high-speed rail system connecting Bratislava and the Vienna airport, and modernized the airports at Bratislava and three other cities.
The first automaker to find its way to Slovakia was Volkswagen, which established a production facility near Bratislava in the early 1990s. Since its start, the VW plant has produced some two million vehicles that include fully assembled VWs, Audis and Skodas as well as bodies for the Porsche Cayenne. After Slovakia joined the EU and adopted the euro in 2004, Peugeot-Citroen and Kia followed suit. By 2007, Slovakia was making 570,000 cars a year, 106 for every 1,000 inhabitants. It became known as the Detroit of Central Europe.
It would be nice to report that this auto production boom has brought prosperity to Slovakia but that is not the case. It remains one of the poorest countries in Europe. Income per capita is only 60% of the EU average. By one calculation, monthly salaries average only about 780 Euros, or about $1,090. The vast majority of Slovakians can't afford to buy the cars made in their country.
Nor has Slovakia escaped the European economic slowdown. PSA, which produces the Peugeot 207 and Citroen C3 subcompacts at its plant in Trnava, suspended production in October and will do so again in November due to slow sales.
VW and Kia, on the other hand, are expanding around the world, which augers well for Slovakia. Countrywide, auto production for 2011 is expected to reach 630,000, up from 562,000 in 2010. The little country that could may yet get something more permanent in the way of recognition for its remarkable achievements.