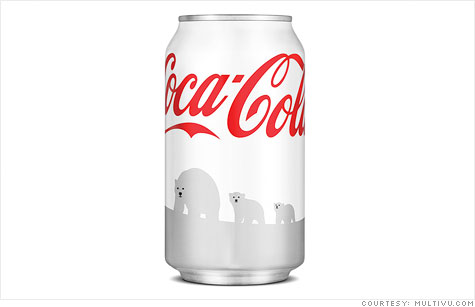 Coca-Cola supports World Wildlife Fund with wintertime white Coke can.
NEW YORK (CNNMoney) -- Coke cans are getting a whitewash.
From November 1 through the end of February, Coca-Cola (KO, Fortune 500) will release 1.4 billion white Coke cans in the United States and Canada, each showing polar bears against a field of white.
The temporary redesign is part of a joint campaign the company is undertaking with the World Wildlife Fund to protect the Arctic habitat of its wintertime mascot, the polar bear.
"We're using one of our greatest assets -- our flagship brand, Coca-Cola -- to raise awareness for this important cause," Muhtar Kent, chairman and CEO of the Coca-Cola Company, said.
In addition to an initial $2 million donation to the WWF, Coke will match up to $1 million that Coke drinkers will be able to donate to the campaign via text message.
Seasonal makeovers are standard for Coke cans. Surfboards and flip flops adorned cans last summer. But the company says this marks the first time in Coke history the cans will ditch their red.
If the white backdrop is a brave new world for Coke, the polar bears on the can have a long affiliation with the brand. Coke first used the polar bear in its marketing in France in 1922, Coke spokesman Ben Sheidler said.
Sheidler says he isn't at all concerned consumers will be thrown by the white color. The cans will retain their recognizable Spencerian script, he pointed out, whose color itself will flip from white to red. The cardboard exteriors of 12-packs will remain red, too.
To clear up any lingering confusion, the white cans' launch will be accompanied by a marketing bonanza that includes in-store advertising, digital billboards, and an Arctic-themed IMAX movie tie-in. "Through all that outreach we should be able to make it clear what we're doing," Sheidler said.