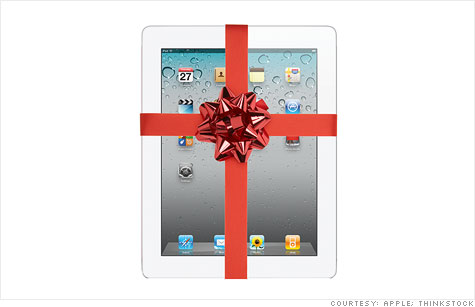 NEW YORK (CNNMoney) -- Wishing for an iPad this Christmas? You are not alone.
Apple (AAPL, Fortune 500) iPads and other tablets are the most desired gadgets this holiday season, according to the Consumer Electronics Association's holiday purchase patterns study released Tuesday.
Tablet computers trail only clothes as the most wanted gifts overall, the CEA said. Notebook computers also rank high on Santa's list, followed by peace, happiness and money.
That marks a significant change from just last year, when peace and happiness took the top spot, followed by laptop computers, and tablets trailed at No. 3, according to the CEA.
Consumers plan to spend $769 on average on gifts this year, up slightly from last year, the CEA said. About a third of that will go toward electronics, an all-time high. Consumers will spend a record $243, on average, on electronics this holiday, up 5% from last year, according to the study.
A separate report by the National Retail Federation said holiday shoppers plan to spend $704.18 on average overall this holiday season, down slightly from last year's $718.98.
According to the NRF, 58% of shoppers say they'd most like to receive a gift card this holiday season. About half said they would also like to receive clothes and a little more than a third wished for consumer electronics or computer-related accessories.
The NRF did not include peace and happiness as a possible response.