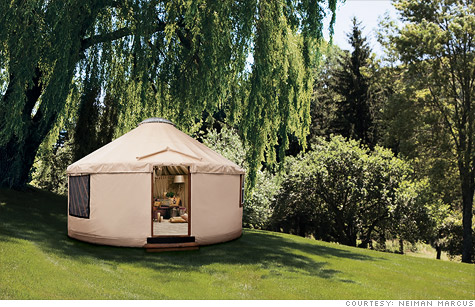 The $75,000 "Dream Folly" is one of nine fantasy gifts offered in the Neiman Marcus Christmas Book this year.
NEW YORK (CNNMoney) -- Upscale retailer Neiman Marcus unveiled the 85th edition of its Christmas Book Tuesday, with nine "fantasy gifts" ranging in price from $5,000 to $1 million.
For $75,000, shoppers can have the "Dream Folly" -- an 18-foot-diameter yurt -- installed in their own backyard. But this one, inspired by the 1960s television show "I Dream of Jeannie," features ultra-luxe finishes like down throw pillows, linen wall coverings and a crystal chandelier.
"The annual holiday tradition continues this year with a new selection of fantasy gifts that cater to people's wildest dreams and promise to provide truly unique, once-in-a-lifetime experiences," John Koryl, president of Neiman Marcus Direct, said in a statement.
The priciest gift in the 2011 book is a custom fountain that moves to music, akin to the famous fountains in front of the Bellagio in Las Vegas. These waterworks, however, will be built on the buyer's own estate -- for a cool $1 million.
Other high-end gifts include a 27-foot, solid mahogany Hacker-Craft speedboat for $250,000 and 2012 Ferrari FF, which goes 0 to 60 miles per hour in less than 3.7 seconds, worth $395,000.
The most affordable fantasy is a private Johnnie Walker scotch tasting for 20 guests accompanied by a Scottish bagpiper for $5,000.
"Even though most people don't have the means it's still a great thing to fantasize about," Ginger Reeder, a spokeswoman for Neiman Marcus, said of the high-end offerings. Reeder noted that the pricier gifts rarely find buyers but do generate buzz for the retailer.
In fact, a private concert by Sir Elton John offered in 2005 for $1.5 million was the last time a gift valued at over $1 million actually sold, she said.
"These gifts are not chosen for sale-ability," she added. "If that happens we consider that to be a nice surprise."
But this year there's an added incentive. Eight of the nine fantasy gifts also feature a charitable component. For example, for each "dream folly" experience sold, Neiman Marcus will donate $5,000 to the Breast Cancer Research Foundation.