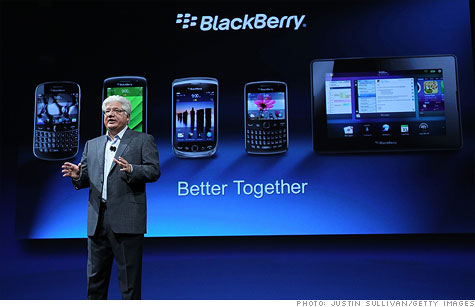 Research in Motion showed off its much-needed PlayBook overhaul at last week's DevCon, but pushed the software's release back until next year.
NEW YORK (CNNMoney) -- Research in Motion's turnaround effort has hit yet another roadblock: The BlackBerry maker said Wednesday that it is delaying a much-needed update to the PlayBook tablet's operating system until February 2012.
The PlayBook has sold sluggishly since its April debut and drew criticism for its unfinished feel. One major oversight: The tablet lacks built-in apps for key functions including e-mail, calendar, address book and BlackBerry Messenger access.
Those updates are coming in PlayBook 2.0, which RIM executives have cast as a Big Bang overhaul.
"The great thing is that we can upgrade the PlayBook," RIM co-CEO Michael Lazaridis told analysts on an earnings call last month. "The PlayBook 2.0 release is going to be something that [customers are] looking forward to, and I expect them to be very, very happy with. ... I think our customers have been waiting for the native e-mail, calendar and contacts."
They'll have to keep waiting. On last month's earnings call, RIM executives referred to the software's "upcoming" launch and said that they would show it off at RIM's developer conference, held last week in San Francisco.
RIM did demo OS 2.0 at BlackBerry DevCon, where it handed out PlayBooks that included a beta version for developers. But consumers won't get the update until next year.
"As much as we'd love to have it in your hands today, we've made the difficult decision to wait to launch ... until we are confident we have fully met the expectations," PlayBook senior vice president David Smith wrote in a company blog post late Tuesday.
And even with the delay, the OS 2.0 will still lack a key feature when it's finally released: the popular BlackBerry Messenger service. Smith wrote simply: "We're still working on it."
Shares of RIM (RIMM) ended the day almost 7% lower.
The delay could further crimp the PlayBook's already disappointing sales. Last quarter, RIM shipped just 200,000 PlayBooks -- a significant drop-off from the 500,000 shipped in the prior quarter. By comparison, Apple (AAPL, Fortune 500) sold 11.1 million iPads in its latest quarter.
Best Buy (BBY, Fortune 500) temporarily slashed the PlayBook's price to $299, a $200 discount, late last month. Office Depot and Staples have also offered their own deals.
RIM was counting on PlayBook 2.0 to "reinvigorate" sales, Lazaridis told analysts last month.
But its troubled tablet is just one of a myriad of problems plaguing RIM. Earlier this month, the company suffered what executives later called the largest-ever BlackBerry outage.
The service disruption started in Europe, the Middle East and Africa on October 10. The next day it spread to South America. That night, RIM assured customers that the glitch had been identified and was "now being resolved" -- but the following day it got worse as customers in the United States and Canada were hit. Service was restored after three full days of outages.
Meanwhile, RIM's sales are flagging, and its stock is down nearly 64% year-to-date. Some disgruntled investors are agitating to remove and replace RIM's board. Small activist shareholders, including Canada's Jaguar Financial Corp., are pushing the company to sell itself.