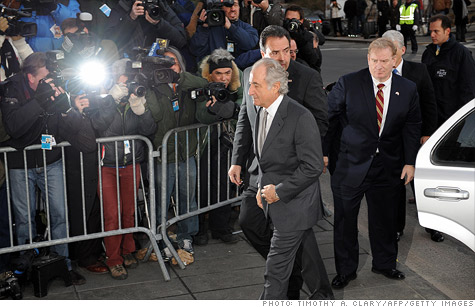 Ponzi convict Bernard Madoff (center) told Barbara Walters that he feels remorse for his family, but downplayed the severity of his crimes regarding investors.
NEW YORK (CNNMoney) -- Ponzi convict Bernard Madoff has "terrible remorse" for having "ruined his family" but is "happier in prison" than he was on the outside, according to Barbara Walters of ABC, and downplays the severity of his crimes.
In a "Good Morning America" appearance on Thursday, Walters said that her jailhouse interview with Madoff revealed that he's more at ease now than he was during his last 20 years of freedom.
"He says that while he was in jail, during the four months before he was sent to prison, he did think about suicide, but he didn't have the courage," said Walters, who interviewed Madoff about two weeks ago. "But now he says, in prison, he never thinks about it. He's happier in prison."
Walters reported on the interview. It was not videotaped because cameras were not allowed in the prison.
Madoff's existence appears to be less stressful, compared to running the largest pyramid-style scheme in history, according to Walters' observations.
"I feel safer here than outside," said Walters, paraphrasing Madoff's comments from her interview at the Butner Federal Correctional Complex in North Carolina, where he is serving a 150-year sentence. "I have people to talk to, no decisions to make. I know I will die in prison. I lived the last 20 years of my life in fear. Now I have no fear because I'm no longer in control."
"He says the other prisoners treat him with great respect, especially the young ones, he says, but they do this for all the wrong reasons," said Walters. "But he has a routine, and for the first time in his life he's not afraid of being arrested."
But some of Madoff's comments were contradictory. He told her that he has nightmares, but during the day he sometimes finds himself smiling, and then feels horrified.
He also said he was "distraught" over his son Mark's suicide in 2010, on the second anniversary of his arrest, said Walters, and that the suicide prompted a separation between him and his wife Ruth. She said that Madoff continues to maintain that his family knew nothing of the Ponzi scheme.
Madoff, who cheated more than 16,000 investors out of about $20 billion, also downplayed the magnitude of his crime, according to Walters.
"The average person thinks I robbed widows and orphans," said Walters, paraphrasing Madoff. "[But] I made wealthy people wealthier."
He also told her that his middle-income investors are getting their principal back "or at least 60 cents on the dollar."
This is in direct opposition to many investors who claim to have been wiped out by Madoff's scheme. Many of his victims were elderly investors living on fixed incomes.
Ilene Kent, an investor advocate whose parents lost most of their life savings to Madoff, was furious over his "repulsive" comments, especially for his "inaccurate" downplaying of the Ponzi's impact on victims.
"[When] Bernie Madoff opens his mouth, he's lying," she said. "He's delusional and totally out of touch with reality."
Madoff was apparently referring to the asset recovery efforts of the court-appointed trustee Irving Picard and his team of lawyers, as well as the U.S. Marshals. They have been seizing Madoff's former properties and putting them up for auction, placing the proceeds into a fund for the victims.
The assets include Madoff's $7 million penthouse in Manhattan, as well as luxurious digs in Montauk, N.Y., as well as Florida and France. They also confiscated his yacht, his liquor cabinet and his satin New York Mets jacket emblazoned with the name Madoff.
The trustee has recovered about half of the lost $20 billion. Much of that -- some $7.2 billion -- came from a settlement with the widow of Jeffry Picower, a Florida billionaire who is believed to have been Madoff's biggest beneficiary. Picower died of a heart attack in 2009.
Madoff, age 73, pleaded guilty to his crimes in 2009 and was sentenced to the 150-year term.