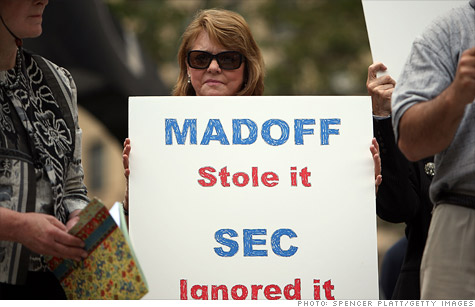 Madoff victims upset by new media attention on Ponzi schemer.
NEW YORK (CNN) -- The media resurfacing of Bernard Madoff and his family has many victims of the notorious Ponzi schemer incensed over the attention being given to the man responsible for wiping out their life savings.
"I really feel sick to my stomach when I see them, hear them, hear their name," said Cynthia Friedman, a New Jersey resident who says she and her husband lost most of their money in Madoff's $20 billion Ponzi scheme.
Friedman said she has this "visceral reaction" every time a Madoff speaks in the media.
And in the past week, there has been an onslaught of media coverage involving the family.
It started with Stephanie Madoff Mack, the widow of Madoff's son, Mark, who committed suicide last year. She was interviewed on both ABC's "20/20" on Oct. 21 and "Good Morning America" this past Monday, and has published a memoir, "The End of Normal: A Wife's Anguish, A Widow's New Life."
On Wednesday, CBS revealed details of a "60 Minutes" interview with Madoff's wife, Ruth, in which she told of attempting to commit suicide with her husband in 2008. The interview is set to air on Sunday.
On Thursday, the attention was on Madoff himself. ABC's Barbara Walters told "Good Morning America" that, in a jailhouse interview, he said he is "happier in prison."
None of this sat well with victims and their families.
"I think anything that they say is extremely self-serving," said Ilene Kent, whose mother lost her life savings to Madoff. "Why re-open the wounds three years later?"
Ruth Madoff's depiction of a suicide pact with her husband drew skepticism from many who lost their money to Madoff.
"I don't know whose idea it was, but we decided to kill ourselves because it was so horrendous what was happening," she said in a partial transcript of the interview released by CBS. "We had terrible phone calls. Hate mail, just beyond anything and I said '...I just can't go on anymore.'"
Richard Friedman, Cynthia's husband, said he does not believe that the pair actually attempted suicide. "If it's a Madoff, you cannot trust anything they say," he said.
Kent said she "just can't assume it" to be true.
Diana Henriques, a financial reporter at The New York Times and author of "The Wizard of Lies," said she believes Ruth's story but understands the strife Madoff's victims experience whenever his name surfaces in the media.
"I can certainly understand their rage at Bernie Madoff himself," she said. "He is the architect of their destruction."
But Henriques said that their anger at Ruth and other members of the family is misplaced.
"She has never been the target or the subject of a criminal investigation and has done nothing wrong."
But for Madoff's victims, it comes down to the fact that even after pleading guilty to cheating more than 16,000 investors out of about $20 billion and being sentenced to 150 years in prison, the spotlight is still on the Madoff family.
"It's almost like the world's turned upside down on this one," Kent said.
-- CNN's Susan Candiotti and Laura Dolan contributed to this report