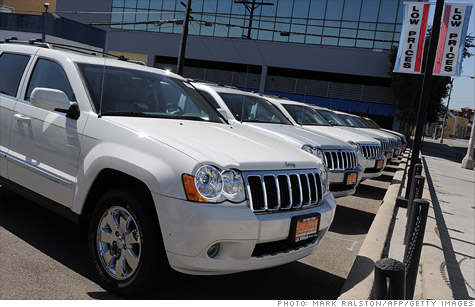 Chrysler, maker of Jeep, posted a strong 27% gain in October auto sales.
NEW YORK (CNNMoney) -- Most major automakers reported sales gains in October, although the increases were a bit softer than hoped for ahead of Tuesday's sales reports.
Industrywide sales rose 7.5% from year-ago results, coming in at a full-year sales rate of 13.26 million, according to industry tracker Autodata.
It was the best sales pace since February, and the results showed continued resilience in auto sales in the face of general weakness and uncertainty in the overal U.S. economy.
Still several forecasters had predicted the best pace of sales since the "Cash for Clunkers" program in August 2009. So the final figures were something of a disappointment.
Still Jesse Toprak, analyst with TrueCar, said there were positives.
"It's a decent month," he said. "The fact that the sales didn't decline shows we're on our way to recovery. It's just a slower pace than anticipated."
Toprak said the forecasts for a better month came from early sales and customer traffic readings collected from dealerships and auto-shopping Web sites.
"The only explanation is that people didn't act on their planned purchases in the last week or so," he said. If it was due to bad weather across the Northeast this weekend, November sales could get a lift. But if it turns out that economic uncertainty kept potential buyers from pulling the trigger on sales, that's more worrisome.
Toprak doesn't think the industry needs to worry about a decline in sales unless there's some economic shock ahead.
General Motors (GM, Fortune 500) sales were a bit weaker than forecasts, rising 2% from year-earlier levels. Analysts with sales trackers Edmunds.com expected a 5% rise, while TrueCar was looking for an 11% at the nation's No. 1 automaker.
Ford Motor (F, Fortune 500) posted a modest 6% gain that was a bit softer than the forecasts of a 7% to 12% gain.
Sales jumped 27% at Chrysler Group, giving the automaker its best sales month since October 2007, well before the start of the recession that battered auto sales the past four years. But while the Chrysler gain was in line with Edmunds' forecast, it was a bit below the gain expected by TrueCar.
Don Johnson, head of GM's North American sales, told analysts that the modest sales gain at GM was in comparison to one of the stronger sales months a year ago.
He said sales were also limited by the fact that there were fewer-than-usual 2011 model clearouts available. Only 20% of car model sales were 2011s -- normally, the October sales mix is split 50-50 between old and new models.
"As a general rule it's better to sell down on the past models earlier," Johnson said. "On balance, it was a month that came in pretty close to what we expected."
But Edmunds' senior analyst Michelle Krebs said GM sales are a bit of a concern.
"Is GM's momentum slowing? Of the four brands, only Chevrolet posted higher sales than a year ago," she said.
Chrysler said its retail sales to consumers were up 40%. It said Chrysler Group has beaten the average industry sales increase in nine of 10 months this year.
"In what is turning out to be a strong new vehicle sales industry, we continued to outperform," said Reid Bigland, head of U.S. sales for Chrysler Group, which includes the Dodge and Jeep brands.
Japanese automakers Toyota Motor (TM) and Honda Motor (HMC) continued to lag behind year-ago sales results as they struggle to overcome production problems caused by the earthquake and tsumani that hit their suppliers earlier this year.
While those problems are almost completely behind the companies at this point, they now need to worry about the impact of recent flooding in Thailand affecting a different supplier base. Monday Honda announced it would trim North American auto production by about half through Nov. 10 and shut plants on Nov. 11.