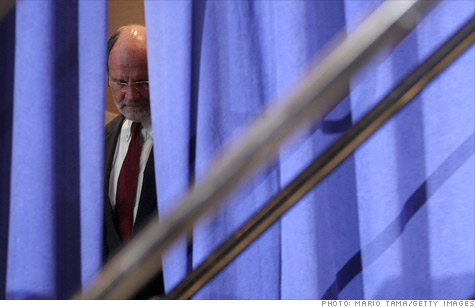 MF Global Chief Executive Jon Corzine blew his chances for a buyout deal with Interactive Brokers because of this firm's "possible deficiences" in accounting.
NEW YORK (CNNMoney) -- Money was found missing from the books of MF Global, a discrepancy that cost the brokerage a potential deal with Interactive Brokers and forced it into bankruptcy, according to government agencies.
MF Global (MF), a company led by former New Jersey governor and former Goldman Sachs CEO Jon Corzine, filed for Chapter 11 protection on Monday. (MF Global: Sorting through the debacle.)
The Commodity Futures Trading Commission and the Securities and Exchange Commission said, in a joint statement on Monday, "MF Global informed the regulators that the transaction had not been agreed to and reported possible deficiencies in customer futures segregated accounts held at the firm."
An MF Global spokeswoman did not return messages from CNNMoney to confirm reports by the New York Times that as much as $700 million was discovered missing from the company's balance sheet.
MF Global is a trader in commodities and derivatives that was brought down by bad debts in Europe. The company was forced to take write-offs as part of last week's deal to resolve the debt crisis in Europe.
The brokerage and its evitable bankruptcy is a stark example of the impact that European instability can have on Wall Street.
MF Global filed for Chapter 11 protection in the U.S. Bankruptcy Court in the Southern District of New York, leaving behind more than $2.2 billion in debt, held mostly by JPMorgan Chase (JPM, Fortune 500), with more than $1.2 billion in bonds, and Deutsche Bank (DB), with about $1 billion.
The bankruptcy filing also entangles 45 other unsecured creditors holding a total of some $10 million. The creditors include American Express (AMEX), KPMG and PricewaterhouseCoopers.
The NYSE halted trading on the company shortly before the filing. Shares fell 16% on Friday to $1.20, capping losses of 85% so far this year.