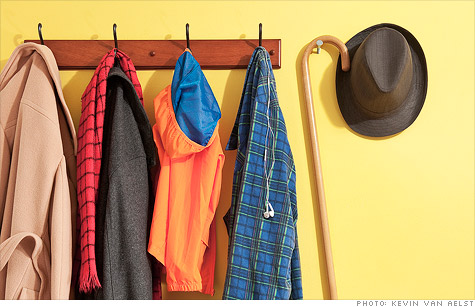 If you set up the right space, living under one roof with your parents won't break the bank -- or drive you crazy.
(MONEY Magazine) -- Last year Charleen and Chris Tivnan were looking to add a second story to their 1,200-square-foot ranch home in Holden, Mass., to make space for her parents. Then they came across a larger four-bedroom colonial nearby that had a first-floor in-law suite.
The new house cost $420,000, almost twice as much as their ranch house. But given that the planned renovation would cost $275,000, the Tivnans realized that buying was a no-brainer. Mom and Dad are happy too.
"Now we can go away for the winter without worrying about our pipes freezing," says Charleen's mother, Pauline Erickson.
These days roughly 16% of the population is living in a house with at least two adult generations, up from 12% in 1980, according to the Pew Research Center. That's the highest level in 50 years.
The economy has played no small role in this increased familial bonding. Given the aging boomer generation and expected growth in home ownership among Hispanics and Asians, for whom multigenerational living is more common, the trend will probably be with us for a while, says Kermit Baker, chief economist for the American Institute of Architects.
To be sure, living with your parents or in-laws can offer plenty of benefits. You get help with household expenses and maybe child care; the older generation can live independently longer. That said, finding a place to live that accommodates two or more generations comfortably can be a difficult -- and expensive -- proposition. To do it right, follow these steps.
Map out your ideal space
No matter how close you are to your mom and dad, both generations should maintain some privacy, says Sharon Graham Niederhaus, co-author of Together Again: A Creative Guide to Successful Multi-generational Living.
The ideal layout depends on your parents' current health and your time horizon. If your parents are in good health, a second-floor or basement suite might be the ideal solution, at least for now. But it's worth keeping in mind that Mom and Dad might not be able to navigate stairs someday, so a home with a first-floor apartment will make more sense for a long-term arrangement.
Finally, think about how you and your parents will interact every day. Plan to eat dinner together every night? Then you can probably forgo two separate kitchens and opt for a breakfast bar with a sink, fridge, and microwave for your parents, says Scottsdale architect Tim Dodt.
Run the numbers on a redo vs. buying new
To get the setup you need, you have three options: converting your existing home, adding on, or moving to a new space.
If you're looking to expand or remodel, the first step is to check the zoning rules in your area: many have restrictions that would prevent you from adding an in-law apartment.
Next, ask an architect or contractor to give you an estimate of costs (find one certified as an aging-in-place specialist at nahb.org/caps). Putting in a bathroom could cost about $40,000; a new master suite could easily run six figures. As a rule, converting a space within the house or garage is anywhere from 50% to 75% less expensive than increasing your home's footprint or building up, says Bend, Ore., design consultant Thomas Carson.
Once you know what it would take to redo your house, compare it with the cost of homes in your area that already have the layout you need; you may, like the Tivnans, find that it's cheaper to move.
Regardless of whether you remodel or buy, you'll need to factor in higher ongoing expenses, such as property taxes and utility and grocery store bills. "Decide upfront who will pay what," says Niederhaus.
Keep an eye on resale
While you're not likely to recoup the cost of an expensive conversion, the good news is that as baby boomers age, multigenerational homes are increasingly popular, says Worcester, Mass., real state agent Lisa Westerman.
Still, "the ideal space is one that can easily be repurposed," she says.
So before you build or buy, talk to a local real estate pro about what sells well in your market. In college towns, for example, an in-law apartment may appeal to buyers looking to rent to grad students. In resort towns, houses with dual master suites tend to attract buyers.
In the Tivnans' case, the sellers of the home they bought had multiple offers, so the couple feel confident about the investment.
"It's worked out perfectly," says Charleen.
Five upgrades for your parents
These features will keep your parents safer and more comfortable, says Louis Tenenbaum, a certified aging-in-place specialist in Potomac, Md.
Shower grab bars ($15 to $80): Prevents falls
Swing-clear door hinges ($20 to $60): Helps wheelchairs fit into doorways
Lever handles on doors ($20 to $40): Easier to open than traditional doorknobs
Under cabinet lighting ($30 to $100): Brightens space to make tasks easier
Toilet seat extender ($40 to $60): Makes sitting and standing easier
NOTE: Prices are per item; they don't include installation. Source: MONEY research