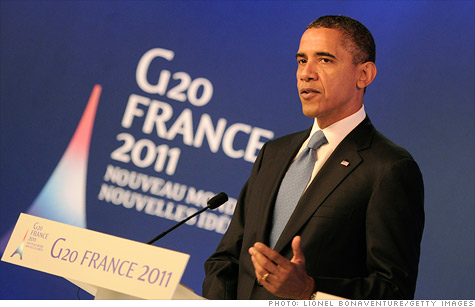 Upon his arrival in Cannes, President Obama said the highest priority for the G20 was to solve the European debt crisis.
CANNES, France (CNNMoney) -- President Obama said Thursday that resolving the debt crisis in Europe is the top priority for world leaders as they gather here for talks on the global economy.
Speaking alongside French President Nicolas Sarkozy, Obama said the leaders discussed the uncertain political situation in Greece, adding that they are working toward a solution.
"The most important task for us is to resolve the financial crisis here in Europe," said Obama, adding that the United States will "continue to be a partner with Europe to resolve these issues."
Obama said the Europeans have taken "important steps" toward a comprehensive solution for the crisis in Greece and problems in the banking sector across Europe.
But he added that the G20 must "flesh out the details" of the plan and ensure that it is implemented "fully and decisively."
The comments came as the Group of 20 Summit in Cannes, France, officially gets underway.
Greece has eclipsed the official G20 agenda by raising the possibility that the nation may vote to leave the euro currency union as part of a controversial referendum in December.
Papandreou called an emergency cabinet meeting early Thursday amid mounting speculation that he may not survive a confidence vote Friday.
He was expected to meet with the nation's president following the cabinet meeting, according to the prime minister's office. Greece's main opposition leader Antonis Samaras said early Thursday that he is prepared to enter a coalition government as an interim stage leading to new elections.
The turmoil in Athens raised worries that a crisis plan announced by European Union leaders last month could be unwinding.
Under an agreement reached October 27, EU leaders agreed to back a second €100 billion bailout for Greece with the International Monetary Fund. They also negotiated a deal with bondholders to write down the value of Greek debt by 50%.
Sarkozy and German Chancellor Angela Merkel said late Wednesday that Greece will not be able to remain a part of the eurozone if the nation does not abide by the terms of last month's agreements.
In addition, they said Greece will not receive its next installment of bailout money until the uncertainty around the referendum is resolved.
The concern is that Greek voters will reject any plan that would require the government to continue making difficult structural reforms and imposing more austerity measures.
Papandreou said Wednesday that he expects a "positive response" to the planned referendum.
Meanwhile, the finance ministers form the 17 euro area nations were set to meet Thursday to discuss ways to expedite implementation of the other parts of the crisis plan, including new capital requirements for banks and a scheme to leverage a government-backed rescue fund.