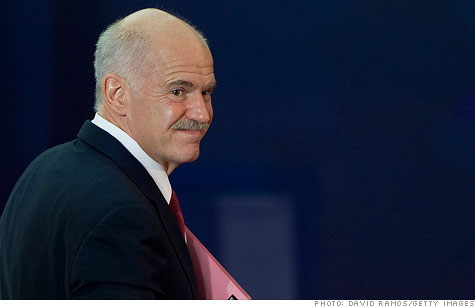 Greek Prime Minister George Papandreou said he's not stepping down, following an emergency cabinet meeting.
ATHENS, Greece (CNN) -- Greek Prime Minister George Papandreou is backing off plans to hold a controversial referendum on an international bailout for his country, he told his cabinet Thursday.
It was not immediately clear if that meant he was canceling the referendum.
But Finance Minister Evangelos Venizelos appeared to rule it out, saying: "It is clear that we are not going ahead with a referendum."
He said the government needs to show clearly it has consensus on the bailout package from all sides.
Prior to Papandreuo's step back, Venizelos said that Greece's future "cannot depend on a referendum" and that the country had to implement the terms of the deal "now, as soon as possible."
The political instability in Greece has caused political and financial jitters throughout Europe and beyond, as world leaders meet in Cannes, France, for the G-20 economic summit.
On a day of choppy trading, European stock markets all closed with solid gains Thursday after European Central Bank President Mario Draghi announced a rate cut. U.S. stocks were also sharply higher in afternoon trading.
In a rambling speech to lawmakers that appeared designed to win support for the bailout, Papandreou said he had never seen anything like the 50% writeoff of Greek debt offered to the country under the bailout deal.
Papandreou called the bailout deal "a landmark," saying it "opens new horizons" for Greece, amid uncertainty over whether he would hold a controversial referendum on the deal.
He also said a confidence vote in the Greek Parliament Friday that will determine his own political fate will go ahead as planned.
At least three members of Papandreou's PASOK party have said this week they no longer back him, but he has the support of one independent, giving him a one-vote majority in Parliament.
Asked if he believed he would win the confidence vote, Papandreou said: "I do hope so, but obviously, this is a democratic process."
Earlier, Papandreou's office said he was prepared to enter a national unity government with the opposition, but was not willing to hold early elections -- a condition opposition leader Antonis Samaras attached to his offer of a unity government earlier Thursday.
Samaras continued to call for Papandreou to step down and for snap elections to be held within six weeks.The move undermines the idea of consensus on the austerity measures attached to a European bailout package.
The prime minister called for Thursday's emergency cabinet meeting after the leaders of France and Germany warned that his country would have to leave the eurozone if voters rejected a bailout plan.
French President Nicolas Sarkozy held more than two hours of meetings with Papandreou and German Chancellor Angela Merkel in Cannes, France, as world leaders gathered for an economic summit.
Europe's common currency has been thrown into crisis by Greek debt and the Greek prime minister's surprise announcement earlier this week that his country would hold a referendum on a plan to bail the country out.
Greek authorities were informed that Europeans and the International Monetary Fund would disburse a sixth installment of €8 billion (about $10.9 billion) only after the uncertainty is ended and the October 27 deal is implemented, Sarkozy said.
Greece is now in the last third of its May 2010 bailout, which is worth a total of €110 billion (about $151 billion).
Asked whether withholding of the last installment would bankrupt Greece, Papandreou said, "If everything goes well in the referendum, it's quite a few days before the sixth tranche is needed to pay up salaries and pensions and so on."
Last week's deal would halve the country's sky-high debts, but at a price that has led to angry demonstrations in the streets of Greece.
International lenders are demanding that Athens raise taxes, sell off state-owned companies and slash government spending, which would mean firing tens of thousands of state workers.
The agreement for private lenders to scrap half of Greece's debt is worth €100 billion to Athens, and comes with a promise of €30 billion from the public sector to help pay off some of the remaining debts, making the whole deal worth €130 billion ($178 billion).
The deal was greeted last week with fanfare as a way to keep debt woes in Greece and other European nations from spilling across other borders, threatening the 17 nations united under the euro currency.
The threat to exclude Greece from the eurozone if voters reject the bailout plan might be impossible to put into practice, said one expert on European politics. "Legally there is no way they can make Greece leave," said Ramon Pacheco, a lecturer at King's College London. "It's just politics.
They can put pressure on Greece, but it's up to Greece to do what it wants," he said. Greece does have the option of leaving the common currency voluntarily, he said. "There is no legal provision that says you cannot leave the euro. It is up to Greece to be in or leave," he said.
-- CNN's Ali Velshi in Cannes, CNN's Laura Smith-Spark and Tom Watkins, and Journalist John Psaropoulos in Athens contributed to this story.