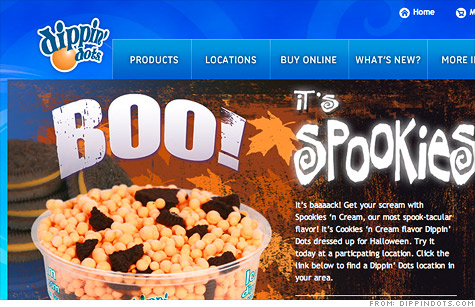 Dippin' Dots, the maker of ice cream beads sold at theme parks and parks, has filed for bankruptcy protection.
NEW YORK (CNNMoney) -- The "ice cream of the future" first has to deal with some debts of the past.
Dippin' Dots Inc., maker of the tiny orbs of ice cream that are a staple of American malls and amusement parks, has filed for Chapter 11 protection in federal bankruptcy court in the Western District of Kentucky.
The bankruptcy is the result of Dippin Dots' "failure to reach an agreement with its secured lender Regions Financial (RF, Fortune 500), following several attempts to do so," the company said in a statement.
Dippin Dots owes Regions about $10 million, according to Steve Heisner, a company spokesman.
The "beaded" ice cream producer's bankruptcy filing sheds light on how the bottom line melted away.
The company has liabilities totaling $12 million, with debts ranging from $657,000 owed to Marion, Ill.-based Peoples Bank to $7.16 owed to Quimby Rubber Stamps Shoppe of Paducah, Ky.
The company's, ahem, "frozen" assets total $20.2 million, and include more than $3 million worth of "ice cream inventory."
Despite the bankruptcy, the company will "absolutely" remain in business, Heisner said.
Microbiologist Curt Jones employed his expertise in "cryogenic technology" to create Dippin' Dots in 1988, according to the company's website.