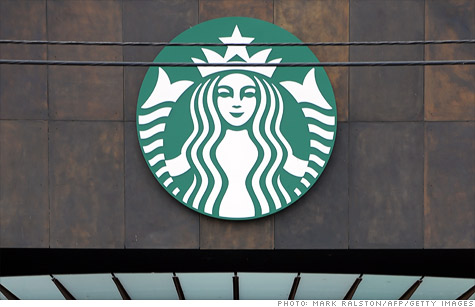 Starbucks expands into juice with acquisition of Evolution Fresh.
NEW YORK (CNNMoney) -- Look out Jamba Juice - here comes Starbucks
The coffee giant acquired juice company Evolution Fresh for $30 million in an effort to expand into the $50 billion health and wellness sector, Starbucks announced Thursday.
"Our intent is to build a national Health and Wellness brand leveraging our scale, resources and premium product expertise. Bringing Evolution Fresh into the Starbucks family marks an important step forward in this pursuit," said Howard Schultz, Starbucks chairman, President and CEO.
Starbucks (SBUX, Fortune 500) plans to expand Evolution Fresh's current distribution and sell its products in Starbucks retail stores. Then in early or mid 2012, the company plans to start a new, separate health and wellness retail chain, stocking Evolution Fresh juice and other healthy-living products.
This acquisition may put Starbucks into direct competition with smoothie maker Jamba Juice (JMBA). Starbucks hopes to attract new customers and provide new options for existing customers.
Expanding beyond coffee with a completely new chain of stores, is a smart move for Starbucks, according to Harvey Hartman, Founder and CEO of the Hartman Group, a consumer consulting company.
"I think the real power of Starbucks is not that they're in the coffee business, but in the culture business and they understand culture and how it's shifting better than anybody else," Hartman said. "The next level is consumers who are looking for an extension of higher quality options and that higher quality is the authentic kind of juice that Evolution is known for."
Evolution Fresh was started by the founder of Naked Juice, Jimmy Rosenberg. It uses a unique system known as High Pressure Pasteurization to keep products as natural as possible.
"Consumers trust the Starbucks brand to deliver on superior best-in-category quality and taste. On behalf of all of us at Evolution Fresh, we are proud to join the Starbucks organization," Rosenberg said.
Starbucks' expects Evolution Fresh to operate at a modest loss in fiscal 2012 and breakeven in fiscal 2013. The company said the deal does not affect Starbucks' financial targets for fiscal 2012.