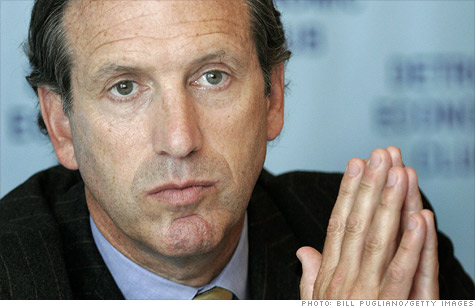 Howard Schultz urges Americans to tell lawmakers that they need to set aside political differences and get the country on the right track.
NEW YORK (CNNMoney) -- Starbucks chief executive Howard Schultz pleaded with Americans Tuesday night to take to the Internet, the mail or the telephone to urge lawmakers to quit their bickering and find solutions to the nation's mounting problems.
"The country is going in the wrong direction because Washington is taking us there," Schultz said at a town hall-style conference organized by No Labels, a group working to find common political ground. "We cannot allow that to happen; they work for us."
Schultz, who has been urging fellow CEOs to withhold political donations until Washington types learn to get along, said the combination of unemployment, uncertainty, and massive deficits is creating one of the biggest crises this nation has ever been through.
He claims the true size of the national debt is $47 trillion -- not $14 trillion -- when all the unfunded commitments the nation has made are accounted for.
When all those obligations start coming due, he said, the picture will not be pretty.
"There's going to be significant cuts in social services, the likes of which we have never seen," said Schultz. "The gap between the haves and have-nots is going to widen."
In addition to Starbucks' (SBUX, Fortune 500) Schultz, AOL's (AOL) Tim Armstrong, Frontier Communications' (FTR) Maggie Wilderotter, Zipcar's (ZIP) Scott Griffith, Whole Foods' (WFM) Walter Robb and Intuit's (INTU) Bill Campbell have all signed Schultz's pledge to withhold political donations.
Schultz, conceding he is just the head of a coffee company and not an economist or government expert, was short on actual policy prescriptions.
He did recommend lowering the corporate tax rate and said more cooperation in Washington would restore some confidence among business leaders, perhaps enticing them to spend some of the $2 trillion in capital currently sitting on corporate balance sheets.
But his main theme was urging the nation's deeply divided political class to find some common ground.
"We have a vocal minority on both sides," he said. "The middle is not being heard."
Conference participant Maya MacGuineas, president of the Committee for a Responsible Federal Budget, said one of the best things the average American citizen can do is have a conversation with someone with an entirely different political leaning.
People need to have "a little more respect for different points of view, and a willingness to compromise," she said. "No one is going to get their top choice on these issues."