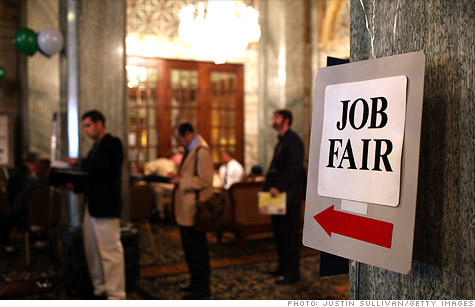 About 390,000 Americans filed for their first week of unemployment benefits last week, the lowest level since April.
NEW YORK (CNNMoney) -- Fewer Americans filed for their first week of unemployment benefits last week, marking continued -- but still slow -- improvement in the job market.
About 390,000 people filed for initial unemployment benefits in the week ended Nov. 5, the Labor Department said Thursday. The number of claims fell 10,000 from the revised 400,000 in the prior week, and is now at the lowest level since April 2.
It was around that time last spring when the U.S. job market was hit hard by uncertainties created by the earthquake in Japan and rapidly rising prices for raw materials, namely oil.
Half a year later it seems those troubles, for the most part, have faded, and economic growth has started to accelerate again in the United States. That slight improvement in the economy has been reflected by the initial claims figures, which have resumed a downward trend.
"The passing of some of this economic weakness is starting to show up in a better labor market," said Michael Gapen, senior U.S. economist at Barclays Capital.
The four-week moving average of initial claims, used to smooth out volatility, is teetering exactly at 400,000. While not an exact science, that number serves as a rough guideline for economists, who say claims below 400,000 could mean job growth has finally become strong enough to start bringing the unemployment rate down.
In a report last week, the government said the unemployment rate dipped to 9% in October, down from 9.1% the month before.
Bringing further encouraging news, this week's report also showed the number of Americans filing for their second week of claims or more has fallen to its lowest level since September 2008. In the week ended Oct. 29, the most recent week available, continuing claims fell to 3,615,000, down 92,000 from the week before.
Of course, the U.S. economy is still facing many large risks that could still jeopardize the jobs recovery, including Europe's debt crisis and political gridlock in Washington.
Gapen said that when he forecasts continuing improvement in the job market, he's assuming that Europe's debt crisis doesn't send a financial shockwave through the United States, and that Congress decides to extend the payroll tax holiday and extended unemployment benefits.
"Under the assumption that some of these risks in the global economy don't materialize, we would expect the gradual improvement in labor conditions to continue," he said.