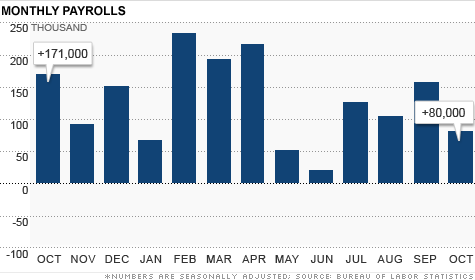 Employers added 80,000 jobs in October, marking a slowdown from 158,000 jobs added in September.
WASHINGTON (CNNMoney) -- American employers reported slower hiring last month, but a falling unemployment rate showed the job market may actually be gaining strength.
Employers added 80,000 jobs in October, the Labor Department reported Friday, marking a sharp slowdown from hiring in September and August. Government figures from those months were both revised significantly higher.
But a separate part of the data shows fewer Americans are unemployed. The unemployment rate fell to 9% in October, down from 9.1% the month before, and the lowest rate since April. (Check the unemployment rate in your state.)

"At the end of the day, the U.S. is still managing to create jobs, and I think that's definitely positive," said Jennifer Lee, senior economist with BMO Capital Markets
The good news: The monthly jobs report is compiled from two separate surveys: one for employers, and another for households. The two parts can sometimes show slightly different readings on the job market.
In this case, the household survey is showing the economy added roughly 1 million jobs since the end of July. Meanwhile, the employer survey shows 342,000 jobs created over that same timeframe which, while better than expected, is still not great.
But for the most part economists seemed ready to welcome Friday's data as slightly encouraging.

Additionally, revisions from August and September added 102,000 jobs to the nation's payrolls.

"Either survey portrays a job market that is a bit better than people might have hoped for," said David Resler, chief economic consultant with Nomura.
That said, there's still a lot of room for improvement.
The bad news: More than two years after the recession officially ended, the labor market is still struggling to gain back even a fraction of all the jobs lost. Only about a quarter of the 8.8 million jobs shed have since been recovered.
And in October alone, roughly 13.9 million Americans remained unemployed, 42% of whom had been out of work for 27 weeks or longer.
And as companies have been hiring modestly, the government is still slashing jobs. The employer survey showed that private companies added 104,000 jobs in October, while the government cut 24,000, mostly at the state level.

Though that amounts to positive growth, it's still not enough to jumpstart the job market. Typically, it takes around 150,000 jobs per month just to keep up with population growth.
Plus, the unemployment rate could still climb higher again, said Keith Hall, commissioner with the Bureau of Labor Statistics. He estimates the economy needs to add at least 130,000 jobs each month to keep up with population growth alone.
"We seem to be growing jobs at around 125,000 a month, we have over the past year," he said, briefing Congress on the report Friday morning. "That is job growth, but it's still not enough job growth to start making headway."
In addition to the unemployed, another 2.6 million people were considered "marginally attached" to the workforce in October. They wanted work, but had given up on actively searching for a job, and were not counted in the unemployment figures.
The so-called underemployment rate, which includes those people, as well as Americans who want to work full-time but are forced to work part-time, fell to 16.2%.