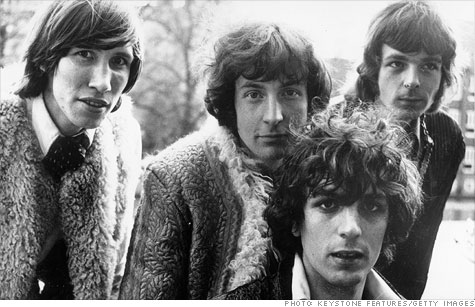 Vivendi and Citigroup signed a $1.9 billion deal to buy EMI, which holds the rights to iconic English rock stars including Pink Floyd, shown here in their psychedelic heyday.
NEW YORK (CNNMoney) -- Vivendi signed a deal to buy the recorded music division of EMI, which holds the rights to the Beatles, from its owner Citigroup, the companies said Friday.
Paris-based Vivendi and its subsidiary Universal Music Group inked an agreement for EMI with Citigroup (C, Fortune 500) worth £1.2 billion, or $1.9 billion.
It was a quick flip for Citigroup, which acquired EMI's recorded music division in February. The deal allowed Citigroup to unload the division that it had taken over when EMI defaulted on its loans, said Gerard Cassidy, a bank analyst with RBC Capital Markets.
"Citigroup is not in the music business," said Cassidy. "The bank is in the business of lending money and managing money. They're not in the business of running companies."
"Of course, Citigroup is taking a loss on this transaction," he added. "[But] it enabled them to lose less money by getting rid of their bad assets."
EMI's selection of artists presents a wide variety of musicians, including iconic English bands like The Beatles, Pink Floyd and Iron Maiden.
"For me, as an Englishman, EMI was the pre-eminent music company that I grew up with," said Universal Music Group Chief Executive Lucian Grainge, in a media release. "Its artists and their music provided the soundtrack to my teenage years. Therefore, UMG is committed to both preserving EMI's cultural heritage and artistic diversity and also investing in its artists and people to grow the company's assets for the future."
EMI's roster also includes pop star Katy Perry and rapper Snoop Dogg.
EMI also owns the well-known recording studios Abbey Road in London and Capitol Studios in Los Angeles.
Also, Sony Corp. (SNE) could be close to sealing a $2.2 billion deal to buy EMI's publishing division. EMI did not immediately return a message from CNNMoney to confirm the publishing deal and a Sony spokeswoman refused to comment.