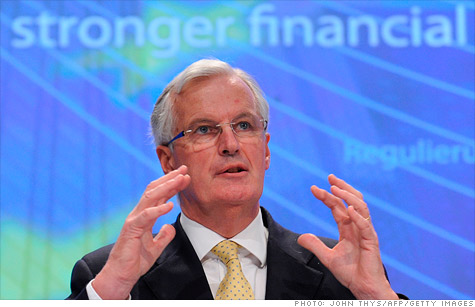 European Commissioner for Internal Market and Services Michel Barnier at a press conference last month.
NEW YORK (CNNMoney) -- Standard & Poor's is facing a growing backlash in Europe after the ratings agency erroneously sent a message suggesting France's pristine credit rating had been downgraded.
The incident on Thursday prompted French regulators and the S&P to open separate investigations.
S&P later clarified that the message was the result of a "technical error" and that its rating on France remains at AAA, with a stable outlook.
An S&P spokesman stressed Friday that it was a mistake, and that the rating for France posted on the agency's website never changed.
But that didn't stop the outrage.
"This incident is serious and it shows that in the current tense and volatile market situation, market players must exercise discipline and demonstrate a special sense of responsibility," European Commissioner Michel Barnier said Friday.
The French Financial Market Authority has already launched an investigation into the mishap. And S&P, a division of publisher McGraw-Hill (MHP, Fortune 500), has begun its own internal probe.
Thursday's blunder came as France's credit rating was already under a microscope.
Moody's warned last month that France, which recently unveiled new budget-cutting measures, has the worst "debt dynamics" of any AAA rated country.
The snafu also caused a mild stir in European financial markets Thursday and drove yields on French government bonds slightly higher.
Next week, European regulators will consider new rules aimed at reducing the influence credit ratings agencies have on investors in government debt, according to Barnier.
"Europe must adopt strict and rigorous rules, including but not limited to the ratings agencies," Barnier said in a statement, adding that he'd been working on the draft legislation for two years.
Under the draft legislation, officials will seek to increase competition and eliminate conflicts of interest among the three main ratings agencies, including S&P, Moody's (MCO) and Fitch.
The agencies will also face increased transparency and oversight in the rating of sovereign debt.
In a sign of potential legal action, the legislation would also create a framework for civil liabilities "in the case of serious misconduct or gross negligence," said Barnier.
"All of these points, especially the latter, are relevant in the context of this case," he noted.
A spokeswoman for Barnier's office said the legislation could also give regulators the power to ban the issuance of sovereign debt ratings in "exceptional cases."
But the spokeswoman confirmed that the final draft will not include a proposal to create a public European ratings firm, due to concerns about market credibility.
The three main credit ratings agencies have long been criticized for their performance during the U.S. subprime crisis, when the agencies bestowed top ratings on mortgage-backed securities that turned out to be toxic.
In Europe, the U.S.-based agencies have been under fire for relentless downgrades of euro area nations at the heart of the debt crisis. Critics say the agencies contribute to market volatility and make it harder for nation's to borrow.
S&P took heat from Washington earlier this year over certain assumptions the agency made when it downgraded the United States' credit rating.