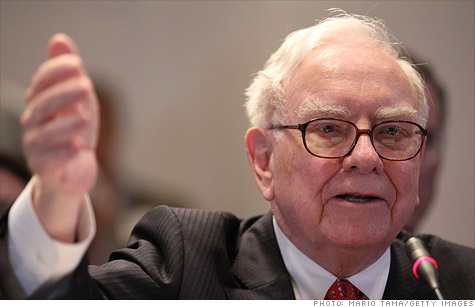 Berkshire makes its biggest play yet into tech stocks in third quarter, adding chipmaker and satellite television service to his previously disclosed move into IBM.
NEW YORK (CNNMoney) -- And they say Warren Buffett doesn't buy tech stocks.
Buffett's Berkshire Hathaway disclosed Monday that he bought positions in chipmaker Intel Corp., satellite television service DirecTV and old-school tech giant IBM.
The Intel (INTC, Fortune 500) and DirecTV (DTV, Fortune 500) holdings were disclosed in Berkshire's quarterly filing late Monday with the Securities and Exchange Commission.
In a television interview earlier Monday, Buffett disclosed that Berkshire (BRKA, Fortune 500) had bought 57 million shares of IBM (IBM, Fortune 500), enough to make it one of the largest investors in the technology giant.
Berkshire's purchases in those other tech companies were far more modest than its bet on IBM. It bought 9.3 million shares of Intel and 4.2 million shares of DirecTV. Still they were unusual investments for Buffett, who has typically avoided tech stocks.
Other new holdings for Berkshire include credit card issuer Visa (V, Fortune 500), of which it bought 2.3 million shares, giving it a much bigger stake than the 405,000 shares it already held in rival card issuer MasterCard (MA, Fortune 500). It also bought 5.7 million shares of drug store operator CVS Caremark (CVS, Fortune 500), as well as 3.1 million shares of defense contractor General Dynamics (GD, Fortune 500).
Overall, Berkshire held $59.1 billion in common stock at the end of the third quarter, with almost all of it in U.S. companies. That's up 12.9% from $52.4 billion in stock holdings three months earlier. That increase in stock holdings came during the worst quarter for U.S. stock values since the financial crisis at the end of 2008.
But Buffett has long been know for buying stocks at depressed prices.
On Aug. 15, Buffett told television interviewer Charlie Rose that on the first day of trading after the U.S. credit downgrade -- as the S&P 500 plunged nearly 7% -- Berkshire made its largest single-day stock purchases of the year to date. And he said the $7 billion Berkshire had invested to that point of the year was at least $1 billion more than it had ever purchased in a year.
"It's like buying on sale," he said.
The stock holdings do not include companies that Berkshire now owns in whole, such as insurer Geico or chemical company Lubrizol Corp., on which he closed his purchase during the quarter. It also does not include preferred shares or warrants, such as the $5 billion of those holdings from Bank of America (BAC, Fortune 500) which Berkshire bought during the period.