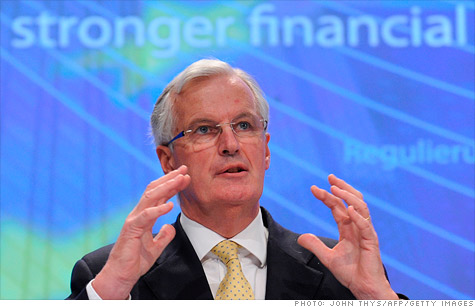 European Commissioner for Internal Market and Services Michel Barnier at a press conference last month.
NEW YORK (CNNMoney) -- European regulators officially unveiled new rules Tuesday aimed at cracking down on credit rating agencies.
The draft legislation came days after French finance officials opened an investigation into a message Standard & Poor's erroneously sent last week to investors suggesting France's top credit rating had been downgraded.
The incident hit a raw nerve for some European officials, who have blamed ratings agencies for contributing to volatility in the sovereign debt market and driving up borrowing costs for troubled governments in the eurozone.
"They are not just simple opinions," said Michel Barnier, the European Union commissioner who has been working on the legislation for two years. "And ratings agencies have made serious mistakes in the past."
Barnier said he has been surprised by the timing of certain sovereign ratings, including downgrades that came in the middle of bailout negotiations. He said ratings agencies should follow stricter rules, be more transparent and be held accountable for their mistakes.
However, Barnier deferred a decision on a controversial proposal to temporarily suspend sovereign ratings for nations that are receiving support from the EU and International Monetary Fund.
The draft legislation would allow for investors to sue for damages in cases where ratings agencies were intentionally or grossly negligent, according to a press release from Barnier's office.
Barnier has suggested that this rule would apply to S&P for last week's "technical error."
The legislation seeks to ensure that investors do not "blindly rely" on ratings agencies by making them more transparent and increasing competition.
In addition to S&P, a division of McGraw Hill (MGH), the main international ratings agencies include Moody's (MCO) and Fitch.
Under the legislation, the agencies would be required to disclose more information on the methods and data underlying a credit rating decision.
Governments, corporations and other issuers would be required to rotate every three years among the agencies that rate their debt. And large credit raters would not be allowed to buy smaller rivals for a period of 10 years.
To reduce volatility, the agencies would only be able to publish sovereign ratings before or after market hours in Europe.
In a statement, S&P said it supports efforts to increase competition and reduce over-reliance on ratings by removing regulatory requirements.
"But adding new rules that are out of step with other regulatory regimes will damage ratings as a globally consistent benchmark of creditworthiness," S&P said in the statement. "It will leave investors worldwide with fewer, lower quality and less independent ratings on European debt."
S&P contends the new rules will hurt European companies by making it harder for them to borrow at a time when credit is already tight.
"We look forward to engaging with policymakers and market participants on these important issues," said S&P.
The three main credit ratings agencies have long been criticized for their performance during the U.S. subprime crisis, when the agencies bestowed top ratings on mortgage-backed securities that turned out to be toxic.
S&P took heat from Washington earlier this year over certain assumptions the agency made when it downgraded the United States' credit rating.