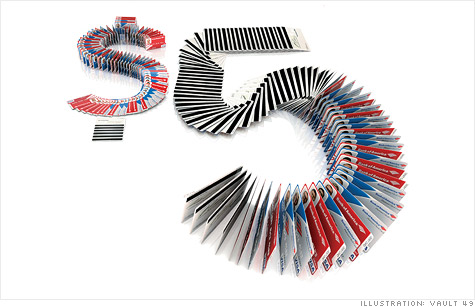 Customer outrage forces big banks to back off from monthly debit card fees but there are plenty of others to keep an eye on.
(MONEY Magazine) -- Following weeks of outrage over plans for a $5-a-month debit card usage fee, Bank of America surrendered in November, joining Chase, Wells Fargo, and other big banks in backing off from similar charges.
Despite the mass retreat, though, banks are still looking to recoup the $7 billion a year they'll lose to new limits on the debit swipe fees that merchants pay.
Checking account maintenance fees, for example, seem to be sticking, so expect more action there. (Citibank (C, Fortune 500), for one, is raising both monthly charges and minimum balances.)
"Banks are having to rejigger their business models," says Richard Barrington of MoneyRates.com. "They'll start charging for things you took for granted."
What to do now
You can evade a monthly checking fee several ways: bank where your mortgage is, use direct deposit, or meet balance minimums in deposit or investment accounts. But since interest rates on savings average 0.2%, it doesn't make sense to put thousands of dollars in the bank just to save 10 bucks a month.
Get more from your savings in the new year.
Switching to another behemoth won't help, says David Robertson, publisher of The Nilson Report industry newsletter.
Instead, try credit unions or online banks: They're busily marketing services they can offer gratis thanks to lower overhead.
Find fee-free accounts at bankrate.com/checking or asmarterchoice.org.