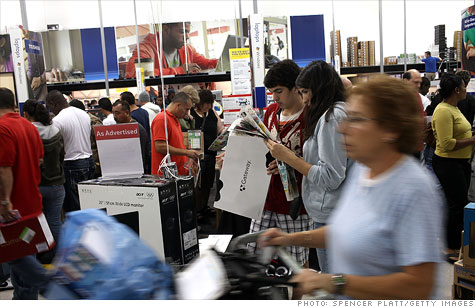 NEW YORK (CNNMoney)  -- Despite backlash against early Thanksgiving Day store openings, Black Friday bargains are still expected to attract hordes of shoppers this year.
An estimated 152 million people are expected to shop over Black Friday weekend, up 10% from last year, according to a report from the National Retail Federation released on Thursday.
The annual estimate of Black Friday shoppers, which is based on a survey of 8,502 consumers, usually falls short of the actual number of shoppers on Black Friday. Last year, NRF estimated there would be 138 million people at the stores, when 212 million actually showed up.
The higher numbers this year may have something to do with the fact that retailers, anxious to get a jumpstart on the key shopping day, are opening earlier than ever before.
Target (TGT, Fortune 500), Best Buy (BBY, Fortune 500), Macy's (M, Fortune 500) and Kohl's (KSS, Fortune 500) are all opening at midnight on Thanksgiving eve. Wal-Mart (WMT, Fortune 500) recently announced plans to open its doors to the public at 10 p.m. and Toys R Us followed suit with an announcement that it would open most stores as early as 9 p.m. the day before Black Friday.
Although some consumers -- and retail employees -- have condemned earlier store openings, the new hours will entice more shoppers overall, the National Retail Federation said.
"We fully expect to see excited shoppers as early as midnight at stores around the country, as many holiday shoppers would rather stay up all night to take advantage of retailers' Black Friday deals rather than set their alarm to wake up the next morning," NRF President and CEO Matthew Shay said in a statement.
Approximately 74 million are projected to hit the stores and another 77 million will wait to see if the bargains are worth braving the crowds, the survey estimated.
Social media will also play a big role in whether shoppers decide to venture out, the survey said. Many more retailers will use Facebook pages and Twitter to announce and promote Black Friday deals and 17.3% of shoppers will look there for the latest information on the upcoming sales.
Despite expectations for a growing number of shoppers this year, previous reports suggest that Black Friday may be losing its luster, which could have dire consequences for retailers, which rely heavily on the weekend to boost their bottom line. According to an earlier report by Accenture, 44% of consumers said that they are likely to shop on Black Friday, down from 47% in 2010 and 52% in 2009.
Are you an extreme Black Friday shopper? Tell us your game plan -- and all-time best deal. Email your response to jessica.dickler@turner.comand your story could be part of an upcoming article.