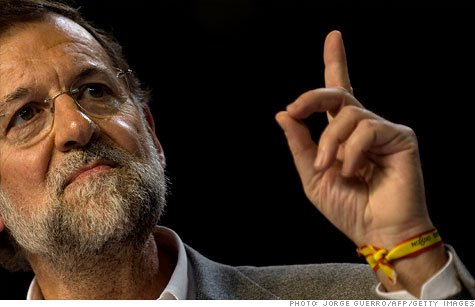 Leader of the Spanish conservative Popular Party opposition party Mariano Rajoy delivers a speech during a campaign meeting in Seville, just days ahead of November 20 general elections.
NEW YORK (CNNMoney) -- Is Spain the next Italy?
The short answer is no. But the two countries are begging for comparison, since they're among the largest economies in the eurozone. And they share the less-than-stellar distinction of seeing their bond yields soaring to sickening heights.
Spain's 10-year bond yield was trading at 6.37% on Friday. That's better than the 6.9% high it recently hit but it is still uncomfortably close to 7%. That was the benchmark crossed by Ireland, Greece and Portugal before they got bailed out by their eurozone neighbors.
Italy's bond yields crossed into the danger zone last week, when yields on Italian 10-year bonds traded as high as 7.48%. That marked the first foray above 7% since the euro was launched in 1999. And it sent waves of fear across world markets, with U.S. stocks sinking more than 3%.
It quickly raised questions about whether Italy was too big to fail. Answer: yes. It also raised questions about whether Italy was too big to bail. That answer was also yes.
Italy is the third-largest bond issuer in the world. It is also the third-largest economy in the eurozone, followed by Spain as the fourth. So the importance of these countries, and their potential impact on the rest of the world, cannot be overstated.
But Spain is in much better shape than Italy, as measured by debt and solvency. Spain's debt-to-GDP ratio is 60%, about half of Italy's 120%, according to Nick Stamenkovic, fixed income strategist for RIA Capital Markets in Edinburgh.
"There's a big difference between Italy and Spain in terms of the economy," he said, noting that the eurozone's average debt to GDP comes in around 85%. "The debt economics in Spain are a lot better."
Italy also carries a massive debt of €1.9 trillion, compared with Spain's relatively paltry debt of 660 billion, noted Deutsche Bank strategist Mohit Kumar.
That doesn't mean that Spain is without problems. The country has an astronomically high unemployment rate above 21%. It's also still suffering from the housing crisis fallout, said Stamenkovic, and its banks could be in better shape.
"The banking sector needs to be recapitalized," said Kumar. "That is a big concern for Spain. Solvency was never a concern."
Spanish banks need a cash infusion of about €26 billion, Kumar said, and while Spain can't come up the money without support, other countries could lend a hand.
"So long as the banking system gets sorted, I would be fine on Spain," he said.
But Italy does have a few advantages over Spain that should not be overlooked.
According to Eurasia Group analyst Antonio Barroso, Italy's deficit last year was equal to 4.6% of its GDP, with a 2011 target of 3.9%. On the other hand, Spain's deficit was 9.2% last year, and there are doubts that it will meet its target of 6% this year.
Secondly, Barroso noted that Italy has a more diversified economy than Spain, led by companies like Fiat, ENI and Telecom Italia.
But with elections scheduled for Sunday, Spain could be in a better position to impose fiscal reforms, said Barroso. He expects the People's Party of Mariano Rajoy to secure a large majority and to impose fiscal stability measures, such as requiring local governments to balance their budgets to make sure deficit targets are met.
"Spain has the ability to pass fiscal and structural reform after elections, given that the winner party will have a large majority in parliament," he said. "In Italy, you have highly fragmented party system that is much messier."
This was made clear on Nov. 12, when scandalized Silvio Berlusconi stepped down from his position of Italian prime minister amid allegations of corruption and sexual activity with a minor. His last act was to pass budget reforms.