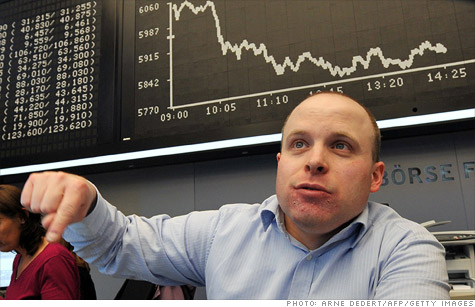 Worries about a deepening eurozone crisis is pressuring bonds and world markets.
NEW YORK (CNNMoney) -- Investors have been on edge all week as borrowing costs remain uncomfortably high across Italy and Spain.
Yields on 10-year Spanish bonds were trading at 6.78% Friday, after nearly reaching the critical 7% level. That figure is considered the first big warning sign of a deepening crisis because it was the same level that eventually led to bailouts for Greece, Ireland and Portugal.
Meanwhile, yields on Italian 10-year bonds also backed off earlier highs to trade at 6.68%. Italian bond yields first crossed the 7% mark last week but have since bounced around, mostly under that threshold, thanks to intervention from the European Central Bank.
"The ECB is said to have been intervening in the Spanish and Italian [bond] markets again," said Elisabeth Afseth, analyst for Evolution Securities in London. "I think that's giving a little bit of a boost to the risk market."
London's FTSE (UKX) dipped 1.2%, while the CAC40 (CAC40) in Paris and the DAX (DAX) in Frankfurt were both down 0.8%, after briefly managing to eke out modest gains.
But the picture in Europe is far from rosy.
One of the chief problems with the European debt crisis is the growing realization that the ECB's bond buying sprees aren't going to save the economy, noted Deutsche Bank analysts Jim Reid and Colin Tan in a research report.
"While the ECB intervened again yesterday to pull us back from serious Spanish/French auction blues, there has yet to be any comforting words that the ECB is set to aggressively step up its purchases or commit to them longer-term," the analysts wrote.
Asian markets sold off on Friday, with the Hang Seng (HSI) in Hong Kong falling 1.7%, the Shanghai Composite (SCOMP) sliding 1.9% and the Nikkei (N225) in Tokyo closing down 1.2%.
It's been a brutal week for stocks overall. U.S. markets have had more down days than up, with all three major indexes on pace to log a weekly loss of 3% or more.
The euro has also been weakening, falling 4% against the U.S. dollar in recent weeks.
"The markets are watching the Big Boys stake out positions around the newly recast question of getting the ECB to finance a Bong Bond Bailout," said Carl Weinberg, chief economist at High Frequency Economics, in a client note. "The markets want the ECB to buy bonds in size, rather than just tinker."