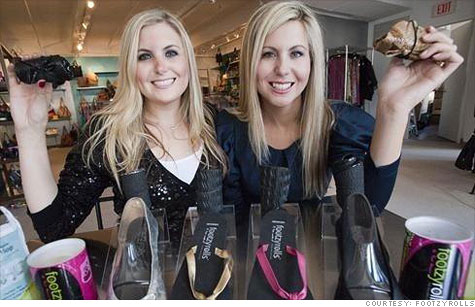 Footzyrolls owners Jenifer and Sarah Caplan are being sued for trademark infringement by Tootsie Roll Industries.
NEW YORK (CNNMoney) -- Tootsie Roll vs. Footzyrolls.
A small footwear company with a cleverly named shoe brand got hit with a trademark lawsuit this week from candy giant Tootsie Roll Industries.
According to the lawsuit filed in federal court in Illinois, Rollashoe, which makes rollable ballet slippers called Footzyrolls, is infringing on the brand name of Chicago-based Tootsie Roll (TR).
Tootsie Roll, which made $521 million in sales last year, alleged that the $2 million Footzyrolls brand will confuse and "deceive" consumers into thinking that the shoes are associated with Tootsie Roll's portfolio of products.
Calling Rollashoe's actions "willful, malicious and fraudulent," Tootsie Roll also claims that Footzyrolls, which launched in 2009, dilute, or tarnish, the value of the Tootsie Roll brand.
The candymaker further alleges that the Footzyrolls name constitutes "copying" and "counterfeiting" of the Tootsie Roll trademark.
Tootsie Roll's suit asks that the Miami Beach, Fla., Rollashoe stop using the Footzyrolls name and that the candymaker be compensated by the startup for damages.
Lawyers for Tootsie Roll did not return several calls seeking comment. Company officials were not immediately available for comment.
Incidentally, the head of the Small Business Administration, Karen Gordon Mills, is the daughter of the founders of Tootsie Roll. Ellen and Melvin Gordon, who have owned most of the candymaker for five decades.
SBA spokeswoman Hayley Meadvin, speaking on behalf of Mills, declined to comment.
Startup fights back: "This lawsuit is completely frivolous and has no merit," Rollashoe owners Sarah Caplan, 28, and Jenifer Caplan, 34, said in a statement. "This is just another example of Tootsie Roll trying to bully a minority-owned women's small business."
The Caplan sisters founded Rollashoe in early 2009. The idea was sparked by Sarah, whose fondness for wearing high heels was taking a toll on her feet.
"All through college I would carry a large bag with me with an extra pair of comfy shoes to change into when my feet started to burn at the end of the night," said Sarah. "My friends would make fun of me all the time."
She started to ask why no one had thought about making shoes that could conveniently fit into a small handbag.
The sisters incorporated Rollashoe in 2009. The Caplans filed for a trademark with the U.S. Patent and Trademark Office. They debuted the Footzyrolls shoe line at a trade show the same year and landed a sizeable order.
Less than a year later, Footzyrolls became a million-dollar brand featured in Oprah's magazine. The shoes are now sold in Bloomingdales and Fred Segal.
In early 2010, Tootsie Roll's lawyers opposed the Caplans' trademark application at the PTO, citing trademark infringement.
Over the past year and a half, the Caplans said they've spent thousands of dollars in legal fees even as their business has grown and is expected to cross $3 million in sales next year.
"With all that money, we could have hired more people," said Sarah, adding that the conflict has also been a "huge impediment" to securing lucrative licensing deals for Footzyrolls.
The lawsuit now escalates the feud, said John Driscoll, lawyer for the Caplans.
"Look, every company has the right to protect their trademark," said Driscoll, who has defended another small business in a separate Tootsie Roll's trademark conflict.
Still, the lawsuit could hurt his client's business, Driscoll said.
"Tootsie Roll is flexing its muscle. This case could now proceed for another year. It will cost the Caplans a lot of money. It could kill their business," he said.