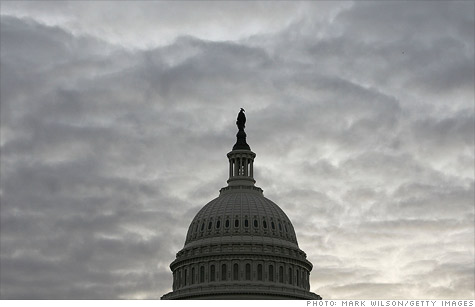 NEW YORK (CNNMoney) -- It looks like Congress is about to forfeit yet another opportunity to address the country's long-term fiscal problems before they get out of hand.
As early as Monday, the congressional debt committee -- absent a miracle -- is likely to issue an admission of failure.
If the bipartisan committee can somehow reach a deal, any debt reduction that committee members can agree to would likely fall short of the $1.2 trillion required to stave off an automatic "sequester" of spending cuts across many parts of the federal budget starting in 2013.
In either case, budget experts will sigh with disappointment. No one will faint from shock, however.
The hope, of course, was that the super committee -- given extraordinary and unprecedented powers -- would tackle the tough problems facing the country's budget, such as rising health costs and an unwieldy tax code no one likes.
But many said all along that the committee was set up to fail before it even held its first meeting.
Congressional leaders handpicked the members, and they chose mostly partisan defenders of the realm, including several who sat on President Obama's 2010 fiscal commission and voted against that panel's $4 trillion debt reduction plan.
The differences that have divided the debt committee are the same that divide all of Congress: How best to raise more tax revenue and curb spending on social entitlement programs.
Republicans and Democrats both say they have offered proposals that demonstrate serious compromise on key points.
But, time and again, the response from the other side of the aisle has been "not enough." That is, when one side isn't saying the other isn't telling the truth.
The market response: The consequences of a super committee failure are not entirely clear yet.
Markets already had very low expectations for the group, which was born from a last-minute deal struck during the confidence-crushing debt-ceiling fight this summer. That debate forced investors to consider for the first time whether Congress would actually let the world's most creditworthy country default on its debt just to make a political point.
Congress narrowly averted a catastrophe, but the country lost its pristine credit rating anyway when Standard & Poor's issued a downgrade largely because of the "political brinksmanship." Stock markets recoiled in dramatic fashion -- plunging in the immediate aftermath of the downgrade.
But soon after, stocks bounced back. And interest rates on U.S. Treasuries never rose; in fact, they fell because of the turmoil.
So how investors will respond to super committee failure is hard to predict.
Stock strategists say investors have been assuming a minimum $1.2 trillion deal would get done. Anything less than that might roil stocks at least for a short while, but the concerns over Europe's debt are still likely to loom larger. A swift downgrade is not a given. And Treasuries are expected again to withstand the news, since bond investors still see the United States as a safe haven relative to Europe, at least for now.
Market response and credit rating agencies might be much harsher if lawmakers dismantle or amend the $1.2 trillion in across-the-board spending cuts before they take effect in January 2013.
The 2013 cuts are supposed to be evenly divided between defense and nondefense spending with a few exemptions: namely, Social Security and programs geared to aid low-income Americans, such as Medicaid. Medicare cuts would also be limited.
The problems remain: One consequence of a super committee failure is crystal clear: Congress will have to debate debt reduction repeatedly until it figures out how to slow the growth in the country's debt.
Having squandered several opportunities in the past year alone, it's not clear how many more lawmakers will have before the markets start demanding more of them.
And the debate will get especially hot at the end of 2012. That is when the Bush-era tax cuts expire. They have been a major sticking point dividing members of the super committee, even though both parties have signaled that they want to extend them for most Americans (the Democrats) if not all of them (the Republicans).
While the debt committee's deadline for a final vote is Wednesday, any plan must be made available 48 hours in advance of a committee vote and must be accompanied by a Congressional Budget Office analysis scoring how much it would reduce deficits.
There may be a way around the procedural rules, but as of now, the committee will have to produce a scored proposal by Monday night if it intends to vote on anything by Wednesday.
-- CNN's Lisa Desjardins and Kate Bolduan contributed to this report.