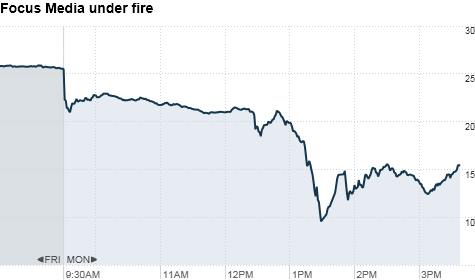 Click the chart for more on Focus Media.
NEW YORK (CNNMoney) -- Shares of Chinese digital marketing firm Focus Media plunged Monday, after an analyst report accused the company of fraud.
Short-seller Muddy Waters Research initiated coverage of Focus Media with a "strong sell" rating, detailing major accusations in an 80-page report.
The bombshell report accuses Focus Media of overstating the number of television screens in its advertising network by about 50%. It further alleges that Focus Media may have "significantly and deliberately overpa[id] for acquisitions" to hide losses.
Investors rushed to dump Focus Media (FMCN) shares, which closed 39.5% lower on Monday. The stock fell as much as 65% at one point during the day.
The Muddy Waters report alleges that Focus Media pretended to acquire companies it never actually bought -- then took writedowns on the purchase price and gave the companies away.
"Investors should be concerned about to where cash actually moved in these transactions, and about the integrity of reported results," the report says.
Representatives for Focus Media could not be reached.
Muddy Waters compares the Focus Media situation to that of Olympus, the Japanese electronics company that has been accused of overpaying for acquisitions in order to disguise losses on investments. Olympus' Tsuyoshi Kikukawa stepped down last month, vacating the posts of chairman, CEO and president.
Focus Media has written down $1.1 billion out of $1.6 billion in acquisitions since 2005, Muddy Waters says, which makes its "behavior more destructive than Olympus's to shareholder value."
Muddy Waters reports have sunk other Chinese companies -- namely timber company Sino-Forest, which allegedly fraudulently overstated its financials. The stock's subsequent plunge severely affected several large hedge funds, including that of billionaire investor John Paulson.
Other Muddy Waters reports have targeted Chinese companies that have gone public through reverse mergers -- in which a privately held Chinese company typically merges with a publicly traded U.S. company but gains the voting and operational control.
As a result, Chinese companies have largely been able to avoid some of the regulatory hurdles imposed when filing for an initial public offering.
Muddy Waters published critical reports on reverse merger companies China Media Express (CCME), Orient Paper (ONP) and RINO International (RINO) -- all of which suffered major stock declines following the allegations.