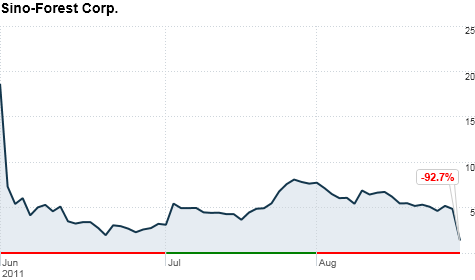 Click chart for more on Sino-Forest's stock.
NEW YORK (CNNMoney) -- The news keeps getting worse for Sino-Forest's shareholders.
Standard & Poor's and Moody's both downgraded the company's rating further into junk territory Monday morning, and S&P completely withdrew its rating on Sino-Forest shortly after announcing the downgrade.
The ratings cuts come after Canada's stock governing body, the Ontario Securities Commission, demanded Friday that the Toronto Stock Exchange suspend trading of shares of the commercial forest plantation company.
Shares of Sino-Forest (SNOFF), which remain suspended, are sitting at $1.38. That's down nearly 95% from mid-April, when rumors of financial fraud started to circle the company.
The Securities and Exchange Commissions hasn't taken any action yet related to the company's stock, said SEC spokesman John Nester, who declined further comment.
But the company's future is looking bleak.
On Sunday, Sino-Forest CEO Allen Chan resigned and three employees were suspended following accusations of fraud. Among them: allegations that the company had failed to accurately report its timber holdings and revenues.
During a July 14 conference call Chan stated: "I personally stand by and guarantee that the audited financial statements in the reports filed are accurate, and any material connected parties' transactions have been disclosed in our management discussions and analysis."
Now of course, such pronouncements appear even more dubious with Chan out as CEO.
"Recent developments point towards a higher likelihood that allegations of fraud at the company will be substantiated," said S&P in its report.
On June 2, Muddy Waters, a hedge fund with a short position in Sino-Forest, issued an in-depth research report questioning the company's accounting and its timber assets. Recent moves by regulators and by the company itself have been both vindicating and lucrative for Muddy Waters.
The firm's 23-page report is at the center of the investigation into Sino-Forest.
Muddy Waters has previously issued reports on Chinese companies that have gone public through reverse mergers in the United States including China Media Express (CCME), Orient Paper (ONP) and RINO International (RINO).
In those cases, the stocks fell precipitously following the hedge fund's reports, which unearthed questions about the firms' operations.
Reverse mergers have been a quick and popular way for Chinese companies to trade publicly on U.S. and other international exchanges. In executing a reverse merger, a privately held Chinese company typically merges with a publicly traded US company but gains the voting and operational control. With this move, Chinese companies have largely been able to avoid some of the regulatory hurdles imposed when filing for an initial public offering.
Meanwhile, fixed income traders say the company's debt has been thinly traded since last week, indicating that markets doubts whether Sino-Forest has enough in assets to even cover a fraction of its debt load. Initially the company's debt was largely held by large American and Canadian mutual funds, according to traders.
Since the allegations of fraud have come to light, mostly emerging markets hedge funds have purchased the debt at values far below par. Now the question is whether debt holders will be able to recoup anything should Sino-Forest file for bankruptcy protection.
Additionally, holders of $87 million of the company's 2011 debt that matured on Aug. 17 could be asked to repay it.
Some investors question whether the court could "claw back" on this money and force these bondholders to repay the $87 million back into the overall pool that would be divvied up by a judge during bankruptcy proceedings.
The stock has also been yet another black eye for billionaire hedge fund investor John Paulson, who reportedly held roughly 15% of the company's stock until June, when these allegations arose.