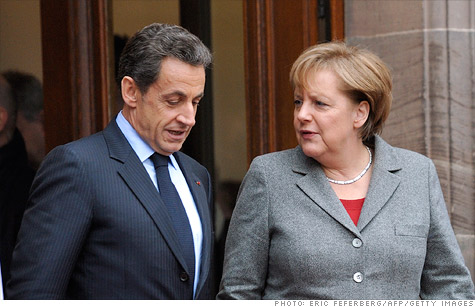 French President Nicolas Sarkozy and German Chancellor Angela Merkel are among the EU officials working on a new agreement to give the European Union more power to regulate budget policies in individual euro area nations.
NEW YORK (CNNMoney) -- Under pressure to avert a financial meltdown, European leaders are working on a new plan to ensure fiscal discipline across the euro area.
The proposal is expected to give the European Union greater authority over the budget policies of individual eurozone nations and create stricter penalties for flouting those rules.
European Council president Herman Van Rompuy said Monday that he will present a "roadmap" for the plan to EU heads of state at the council's next meeting on Dec. 9.
"We are aiming for binding rules to ensure strong fiscal and economic discipline in all countries to go hand in hand with fiscal and economic integration in the euro area as a whole," Van Rompuy said, following a meeting in Washington with President Obama.
Obama praised the efforts made by EU leaders to address the debt crisis, adding that the United States "stands ready to do our part to help them resolve this issue."
The talk of greater fiscal and economic "integration" is not new, and EU policymakers have already taken steps in that direction.
New economic governance policies will go into effect within a matter of weeks, noted European Commission president Jose Manuel Barroso, who also met with Obama. Barroso added that he introduced proposals last week to strengthen budget oversight and enforcement across the eurozone.
"The way forward in Europe is through more integration," he said. "This crisis has caused an acceleration of history and we must be ready today to take the measures that were envisaged only for tomorrow."
Many economists say the EU needs to move toward a so-called fiscal union to ensure the sustainability of the existing monetary and currency union. Until recently, more centralized policy making on government spending and debt levels has been hindered by questions of national sovereignty.
The push comes as the region's long-running debt crisis has hit core members of the euro currency bloc, sparking calls for an immediate and decisive response.
On Monday, the Organization for Economic Cooperation and Development said urgent action is needed to stop the debt crisis from spreading and prevent a global economic downturn.
"The situation in the euro area is rapidly deteriorating and contagion is spreading," said OECD chief economist Pier Carlo Padoan. "Policy continues to be behind the curve."
Credit rating agency Moody's also warned that the debt and banking crisis in the eurozone threatens the creditworthiness of all euro area nations.
Despite the dire warnings, stocks in Europe and the United States rallied as investors bet euro area officials will finally introduce a meaningful policy response.
Investors have been calling for the ECB to drop its opposition to funding troubled euro area governments and commit to unlimited buying of sovereign debt. The bank is widely seen as the only institution with the financial firepower to respond quickly and restore confidence in financial markets.
But the ECB has resisted.
The central bank argues that unlimited intervention would violate its mandate and could allow governments to avoid making difficult reforms.
ECB officials have said that governments must show progress on spending cuts and paying down debt before it will consider providing additional support.
Some analysts say the talk of a new governance pact is designed to give the ECB some assurance that euro area governments will follow through on promised reforms.
The pact is expected to be limited to the 17 nations that use the euro, which could make implementation easier because the agreement would not need to be ratified by all 27 members of the European Union. It may also be enacted without rewriting existing EU treaties, according to reports.
Yet officials in Europe have made similar attempts to increase integration in the past, such as the Stability and Growth Pact, which did not amount to much. In addition, the steps officials have taken to date have done little to prevent the long-running debt crisis from spreading.
Holger Schmieding, chief economist at Berenberg Bank, expects Germany and the ECB to eventually abandon their opposition to buying more bonds, although not before more turmoil roils the markets.
"We may get uncomfortably close to the Armageddon scenario of a catastrophic crash that could send the German economy into a tailspin and cause the worst political crisis in Europe since 1961," Schmieding wrote in a note to clients.
In what could be a crucial test, this week brings auctions of government debt by several euro area nations, including Italy, Spain, France and Belgium.
"We expect the market will require heavy support from the ECB to deal with the supply," said Gary Jenkins, head of fixed-income at Evolution Securities.
Belgium successfully sold €2 billion worth of bonds Monday, though interest rates were sharply higher. The nation forced through a new budget over the weekend after Standard & Poor's downgraded its credit rating Friday.