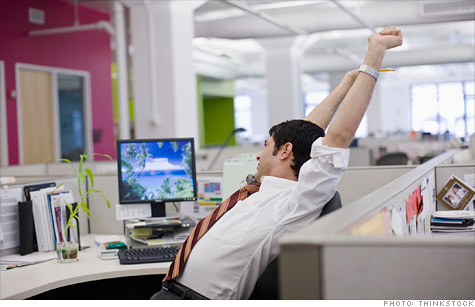 The average American will forfeit two earned vacation days this year for a grand total of 226 million unused vacation days nationwide, according to a survey by Expedia.
NEW YORK (CNNMoney) -- There's still a month to go before the end of the year, but most Americans will let their last remaining vacation days go unused.
The average American worker earned 14 vacation days this year but will only take 12 of them, according to a survey by Expedia. That's about the same number of days they left on the table last year.
While two forfeited days of vacation may not seem like a lot, it can really add up. Altogether, Americans are giving up 226 million unused vacation days this year. Considering that, according to the Bureau of Labor Statistics, the average full-time worker earns $39,416 a year -- that's $34.3 billion worth of time.
The reason most workers say they chose to slave away at work rather than relax on a beach, is that they could not afford to travel, Expedia said. "Lack of planning" was the second-most-cited excuse among those surveyed.
"Now that companies are doing more with less, people have a hard time taking vacation because there's so much work to do," said Jennie Dede, vice president of recruiting for job placement firm Adecco.
Plus, "people feel that they need face time in the office," added Stuart Rubinstein, managing director at TD Ameritrade. "They worry that being out of the office might make them next on the list."
And with so many workers feeling insecure about their jobs and their own economic situation, many are determined to pay down debt and boost savings, rather than splurge on vacations, which can be costly, he said.
Other surveys on unused vacation time have found that Americans leave even more valuable vacation days on the table.
A similar survey by Hotwire released Nov. 17 found that the average American employee leaves 6.2 days of paid vacation days unused at the end of each year.
"Too many Americans are getting caught up in their everyday routine and are either forgetting to use their vacation or assuming travel for the remainder of the year is too expensive," Clem Bason, president of the Hotwire Group, said in a statement.
Another survey by JetBlue also released last month found most Americans will forfeit an average of 11 days -- more than two weeks off -- this year.
That survey also said that a majority, or 57%, of working Americans will have unused vacation time at the end of the year, and while most workers said they deserved to take that time off, many also admitted having reservations about asking their bosses for a vacation.
Ironically, "most managers believe you should take the time to enjoy your family, enjoy your life and come back refreshed," Dede said. "Vacation is a time to decompress and get your head out of the water."
Meanwhile, workers in other parts of the world seem to have no problem enjoying their downtime, according to Expedia's survey. Workers in France earned 30 vacation days, on average, in 2011, and often used every single one of those days. The same goes for employees in Brazil and Spain, Expedia said. In the UK, workers get 25 days and they used all 25.
Only in Asian countries did workers put less emphasis on vacations than Americans, according to the survey. In Japan, for example, workers earned 11 days a year and used just five.
Expedia's Vacation Deprivation online survey polled 7,803 workers in 20 countries.