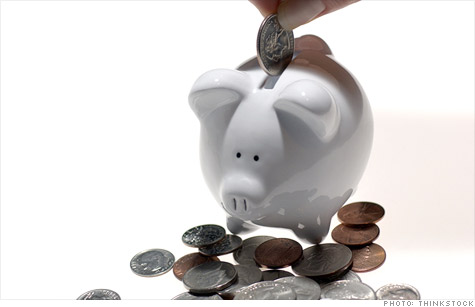 The savings rate ticked up to 3.5% in October, as Americans saw their incomes rise but only increased their spending very little.
NEW YORK (CNNMoney) -- Americans put more of their hard-earned dough into savings in October and increased their spending only very little.
The personal savings rate rose to 3.5% last month, a slight tick up from 3.3% in September, according to data released Wednesday by the Commerce Department.
The boost in the savings rate came as incomes rose at a faster clip than spending. Personal income was up 0.4% in October, whereas consumers increased their spending only 0.1 during the month.
Overall, the savings rate is still near its lowest level since the beginning of the Great Recession though.
The financial crisis initially spurred Americans to pull back the reins on spending and increase their savings rate to as high as 8.3% in May 2008. But that period of frugality was short-lived.
The savings rate declined quickly this summer as the jobs recovery stalled, and just a month ago, it was at its lowest level since December 2007.
The increase in October could be slightly encouraging, because it may mean Americans will have a greater ability to pay down their debts, said Sal Guatieri, senior economist with BMO Capital Markets.
At the same time though, a higher savings rate puts a break on consumer spending, which is a key driver of economic growth.
"The fact that households are still spending is good, and that their incomes are starting to increase is good," Guatieri said. "But the fact that they're spending at a very cautious rate is not great, because that won't inspire businesses to ramp up hiring."
In fact, weak consumer spending in October was enough to spur many economists to lower their forecasts for overall economic growth. Paul Dales, a senior U.S. economist at Capital Economics, now thinks the economy will grow 2.5% in the final three months of the year, down from the 3% he was originally predicting.
Analysts expect economic growth in the fourth quarter to rely more heavily on businesses increasing their spending on capital investments and equipment, rather than a robust comeback in consumer spending.