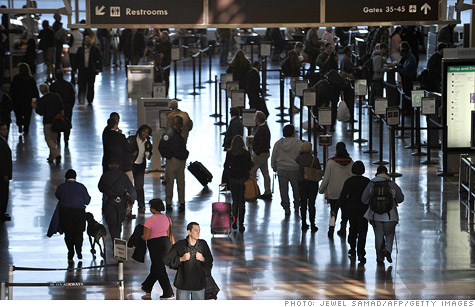 NEW YORK (CNNMoney) -- The Thanksgiving holiday is not only one of the busiest times to travel but it's also the most expensive. And this year it will only get worse.
Average airfares over Thanksgiving week (from Nov. 20 to Nov. 27) are 6% higher this year, according to data compiled by Hotwire. In December, airfares are projected to be about 10% higher than last year.
As major airlines like American Airlines (AMR, Fortune 500), US Airways (LCC, Fortune 500) and Delta (DAL, Fortune 500) struggle with year-over-year losses and even the threat of bankruptcy in American's case, carriers are reducing the number of destinations they fly to or even flying less frequently to popular routes in order to cut costs.
During the fourth quarter, domestic capacity -- or the amount of seats available on flights -- fell below year-ago levels, according to the Air Transport Association.
At the same time, the number of air travelers is rising. In July, the number of passengers in seats -- known as the domestic load factor -- reached an all-time high, according to the Department of Transportation's most recent data.
"Airlines are adjusting their flight schedules as necessary to get as close as they can to having a paying passenger in every single seat on every plane that takes off -- it only makes financial sense. But, this means higher fares for travelers," explained Melissa Klurman, contributing editor at travel site Travelocity.
All that demand and limited supply tends to put upward pressure on prices -- particularly at a time when most consumers are most set on traveling, said John Heimlich, the ATA's chief economist.
Even though consumers are reining in their spending, time with family during the holidays remains a particular priority.
"Especially Thanksgiving, that's one that consumers try not to give up," Heimlich said.
Here's how to avoid letting higher fares put a crimp in the holiday:
Ways to save
"Book Thanksgiving airfare now," Klurman suggests. "Airfare usually starts to creep up as you approach a busy holiday such as Thanksgiving, so it's always a good idea to be as flexible as you can."
Although travelers start making Thanksgiving plans months in advance, most wait until early November to book their flights -- and that's when airfares start to spike.
Beginning next week, you can expect to add $5 to the price of each round-trip ticket for each day you procrastinate, cautioned Rick Seaney, CEO of FareCompare.com.
Seaney suggests opting for a connecting flight instead of a direct one to cut costs. A general rule of thumb is that the longer the layover, the cheaper the airfare, he said.
Check alternative airports if you're flying in or out of a busy metropolitan area. For example, if you're flying from New York to Miami over Thanksgiving, consider arriving in Ft. Lauderdale or West Palm Beach instead. A flight from LaGuardia to Miami can cost $494 per person, but landing in Fort Lauderdale -- just 19 miles away -- is $364, according to Travelocity. That's more than a $500 savings for a family of four.
Also, Tuesdays and Wednesdays (aside from the week of Thanksgiving) are generally the cheapest times to fly. During the week of Thanksgiving, however, flying on Thursday and returning Friday will cost substantially less than arriving on Wednesday and departing on Sunday.
The average cost of a flight departing on Thursday and returning Friday is $281, while the average cost a flight departing on Wednesday and returning Sunday is $441, according Travelocity.
Although you will have less time with family, the cost savings may make it worthwhile.